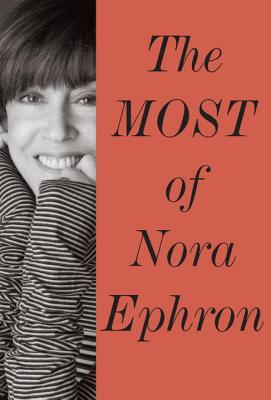 The Most of Nora Ephron
Hardcover

* Individual store prices may vary.
Description
A whopping big celebration of the work of the late, great Nora Ephron, America's funniest—and most acute—writer, famous for her brilliant takes on life as we've been living it these last forty years.

Everything you could possibly want from Nora Ephron is here—from her writings on journalism, feminism, and being a woman (the notorious piece on being flat-chested, the clarion call of her commencement address at Wellesley) to her best-selling novel, Heartburn, written in the wake of her devastating divorce from Carl Bernstein; from her hilarious and touching screenplay for the movie When Harry Met Sally . . . ("I'll have what she's having") to her recent play Lucky Guy (published here for the first time); from her ongoing love affair with food, recipes and all, to her extended takes on such controversial women as Lillian Hellman and Helen Gurley Brown; from her pithy blogs on politics to her moving meditations on aging ("I Feel Bad About My Neck") and dying.

Her superb writing, her unforgettable movies, her honesty and fearlessness, her nonpareil humor have made Nora Ephron an icon for America's women—and not a few of its men.

Praise For The Most of Nora Ephron…
"Nora Ephron was the person everybody wanted to hang out with, in part because she was funny and charming but more critically because she made the people she was with feel funny and charming . . . She was the one who listened and then finally tossed in the one fabulous line that brought everything together. Her best writing was exactly the same . . . It takes a particular combination of winning voice and brutal candor, of intimacy and objectivity, to turn what happens to you into a story that means something to the wider world . . . The Most of Nora Ephron gives her fans a chance to rummage through her desk . . . This is the kind of collection meant for snacking . . . She would want readers to meander, sampling things they had never tried or bits that look especially tasty. But I was surprised by how satisfying the big chunks are." —The New York Times Book Review
 
"A giant gem, suitable for anyone who admired, worshipped or was even jealous of the writer Nora Ephron . . . A nifty Christmas gift for anyone who cares about the life and times of a contemporary writer who is sometimes compared to Mark Twain." —Liz Smith, Chicago Tribune
 
"Nora Ephron takes tragedy and bewilderment and spins them into rambling comedic reflections . . . [She and Joan Didion] are trailblazing Boomer-era best-selling writers, but both also illustrate with unusual force the rhythms of emotional confession and emotional withholding that have marked the golden age of journalistic writing by women that they shaped . . . When life gave Ephron lemons she made a giant vat of really good vodka-spiked lemonade and invited all of her friends and her friends' friends over to share it, and gossip, and play charades . . . She knew how to capture every quirk, and she knew just when to cast the slightest shadow of doubt . . . Ephron's fun-house lens distilled accomplishments and disappointments alike into excuses to laugh. She took comfort in the little things and held fast to the notion that every terrible experience might someday redeem itself by making a really funny story." —Heather Havrilesky, Bookforum

"Ephron's arc as an American storyteller was various and unique . . . Her works are bound by her equitable sensibility, cool observational skills, and irresistible trains of thought . . .  [She was] a cultural sophisticate driven by the gritty, truth-obsessed heart of a journalist . . . a savvy and expansive media critic . . . a master of the art of common sense . . . with assured charm, dead-on honesty, and wry humor . . . Her distinctive voice, that mix of anthropologist and the sharer of impolitic confidences, was clear and intact from the start . . . The 1970s pieces sparkle with prescience and intense curiosity . . . Rich." —Matthew Gilbert, The Boston Globe
 
"When Nora Ephron died last year, we felt like we lost a friend. Which is why we are all over The Most of Nora Ephron . . . We will never get enough of her searing wit and the deliberate way she turned life's tragic twists into heartbreakingly funny material."  —Carolyn Mason, Daily Candy
 
"A pleasure . . . Solid gold."  —Marion Winik, Newsday
 
"Readers will admire their literary heroine even more when, thanks to The MOST of Nora Ephron, they discover, or are reminded, of the brave positions she took, and of how far her preoccupations and her writing ranged." —Francine Prose, The New York Review of Books
 
"Gives you a close-up and thorough view of the writer . . . and goes far in clarifying who Ephron was, not just as a sentimental favorite, but as a writer and thinker . . . Anyone who knows of Ephron's virtuosic career . . . will remember that she wasn't just [the] intrepid reporter and filmmaker and opinion-sayer and personage who was played onscreen by no less than Meryl Streep. She was also someone who lived, and who people who never met her felt like they knew. And that, I think, gives a clue as to why she will last. Because in the great rushing loneliness of the world, when a writer's voice makes you feel befriended, you want more of it even after the person is gone." —Meg Wolitzer, NPR
 
"A big, gratifying collection . . . It's the work of a brilliant woman who took copious notes on four decades of tumultuous social and political history and who exerted astonishing authorial control over the story of her own place within that history . . . A stirring portrait of both a nation in flux and of an extraordinary woman who retained a tight grip on her place within it, right till the end." —Rebecca Traister, Los Angeles Times
 
"Representing 40-plus years of work, this volume illustrates not only Ephron's dynamic writing career as a journalist-turned-novelist-turned-filmmaker but also her incredible wit. Whether Ephron is writing about politics or purses, sexism or soufflé, her appeal is her intelligent, incisive sense of humor. This is also part of what makes her such an icon . . . for America. Women may idolize her—she is the major inspiration for funny girl Lena Dunham, creator of the HBO hit Girls—but through her writing and films, she has changed the actual timbre of American humor . . . Gottlieb manages to pack this almost 600-page anthology with Ephron's most timeless pieces. Since we will never have enough of Nora Ephron, the most will have to do." —Library Journal (starred)
 
"This hugely entertaining collection includes classics like Ephron's novel Heartburn and her screenplay for When Harry Met Sally . . ., as well as columns, blog posts, and her final play, Lucky Guy . . . Many people already know how Ephron felt about her neck (bad) and what she'd miss when she died (bacon). But while these gems are included here, they're offset by the ruthless young Ephron, who skewered journalistic ethics at The New York Times and made Gloria Steinem and Helen Gurley Brown cry during interviews. Tracing her evolution from these hard-nosed early pieces to the later, vulnerable essays on aging makes this book even more moving . . . What made Ephron great was that she took the very things seriously that others dismissed as frivolous, Cosmopolitan, Teflon, breast size, and, most of all, herself." —Entertainment Weekly
 
"Reading nearly 600 pages of Ephron in one volume is a joy, not only due to the range of her interests, her capacious mind, her mixture of humor and satire and self-deprecation, but also her skill as a stylist. Few writers of Ephron's range and output have written so few clunky sentences or so many memorable ones. Included is perhaps her most famous essay . . . which expounded on the flatness of her chest; her neck became as famous as her chest but not until 2003. Ephron might be best remembered, however, for her searing insights into the craft of journalism and the complications of feminism. A delightful collection from a unique, significant American writer." —Kirkus Reviews (starred)
 
"Celebrates Ephron's talent for turning her experiences into material . . . The book's most delicious offering is Ephron's magazine journalism from the 1970s, with razor sharp profiles . . . and keenly intelligent reportage . . . The book documents the changing culture of the New York media world. 'Everything is copy,' Ephron's mother always said. This collection fulfills that motto with aplomb, and will likely serve as a perfect holiday gift for Ephron fans." —Publishers Weekly (boxed)
Knopf, 9780385350839, 576pp.
Publication Date: October 29, 2013
About the Author
Nora Ephron was the author of the hugely successful I Feel Bad About My Neck, I Remember Nothing, and Heartburn. She received Academy Award nominations for best original screenplay for When Harry Met Sally . . . , Silkwood, and Sleepless in Seattle, which she also directed. Her other credits include the recent hit play Lucky Guy and the films You've Got Mail and Julie & Julia, both of which she wrote and directed. She died in 2012.

Coverage from NPR
or
Not Currently Available for Direct Purchase