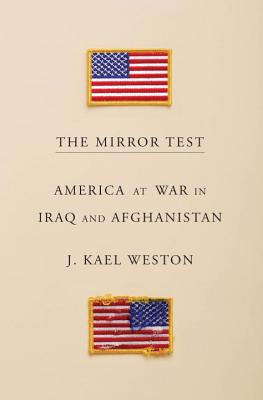 The Mirror Test
America at War in Iraq and Afghanistan
Hardcover

* Individual store prices may vary.
Other Editions of This Title:
Digital Audiobook (5/23/2016)
Paperback (4/4/2017)
Description
A New York Times Editors' Choice
A Military Times Best Book of the Year

A powerfully written firsthand account of the human costs of conflict.

J. Kael Weston spent seven years on the ground in Iraq and Afghanistan working for the U.S. State Department in some of the most dangerous frontline locations. Upon his return home, while traveling the country to pay respect to the dead and wounded, he asked himself: When will these wars end? How will they be remembered and memorialized? What lessons can we learn from them?

These are questions with no quick answers, but perhaps ones that might lead to a shared reckoning worthy of the sacrifices of those—troops and civilians alike—whose lives have been changed by more than a decade and a half of war.

Weston takes us from Twentynine Palms in California to Fallujah in Iraq, Khost and Helmand in Afghanistan, Maryland, Colorado, Wyoming, and New York City, as well as to out-of-the-way places in Iowa and Texas. We meet generals, corporals and captains, senators and ambassadors, NATO allies, Iraqi truck drivers, city councils, imams and mullahs, Afghan schoolteachers, madrassa and college students, former Taliban fighters and ex-Guantánamo prison detainees, a torture victim, SEAL and Delta Force teams, and many Marines.

The overall frame for the book, from which the title is taken, centers on soldiers who have received a grievous wound to the face. There is a moment during their recovery when they must look upon their reconstructed appearance for the first time. This is known as "the mirror test." From an intricate tapestry of voices and stories—Iraqi, Afghan, and American—Weston delivers a larger mirror test for our nation in its global role. An unflinching and deep examination of the interplay between warfare and diplomacy, this is an essential book—a crucial look at America now, how it is viewed in the world and how the nation views itself.
Praise For The Mirror Test: America at War in Iraq and Afghanistan…
Praise for J. Kael Weston's The Mirror Test:
 
"Closely observed and illuminating. . . . Weston's reportage recalls the finest foreign correspondence of the Iraq and Afghan wars." –The New York Review of Books

"Weston is. . . a diplomat of great bravery, erudition and heart who befriended Afghans and stood up to his superiors. . . . The emotional core of The Mirror Test is Weston's profound love for the Marines. . . . Weston is [a] civilian hero." —The New York Times Book Review

"Weston, who worked as a State Department official for more than a decade, brings balance and cultural perspective different from the previous war books. . . . Along the way, he heralds humanitarian efforts and describes a fascinating dynamic of American dollars simultaneously rolling out to fund the allied war effort and the Afghan infrastructure." —The Desert News
 
"This book shines when it recounts Weston's day-to-day dealings with Marines (and Iraqis and Afghans). . . . [The Mirror Test] deserves a salute." —St. Louis Post-Dispatch

"Weston, a former State Department official, spent seven courageous and harrowing years on the front lines as a political adviser to American troops. His memoir offers a serious examination of the effects of terrorism from a personal and emotional perspective." —The New York Times (Editors' Choice)

"As a former Foreign Service officer, Weston is perfectly positioned to provide a different perspective on these wars' sometimes-particular complexities. . . . The Mirror Test offers insights into tribal, cultural and religious dynamics; the limits of military power as a political instrument; the use of drones; the heavy reliance on special operators; cooperation and failed cooperation among military services, agencies and allies." –The Washington Post

"This long book about a long wartime tries to do many things—and succeeds. It is an atonement and an assessment, a eulogy and an exposition, a reflection of a nation and a memoir by a man who survived 'seven consecutive years in two wars.'" –Military Times

"If you read only one book about the wars in Afghanistan and Iraq, read this one. . . . 
Weston's is indeed a great, heart-rending, powerful book you won't forget. You especially won't forget why it is called the mirror test. It refers to a terrible, often repeated event, but as a metaphor for this war it is an insight of tremendous value. Read this work to learn what a mirror test for a man, and for a nation, is." --Decatur Daily

"Kael Weston is the conscience of our wars. After spending more time in Iraq and Afghanistan than any other American diplomat, he has emerged with a powerful-yet-nuanced story of sacrifice, misadventure, humanity and resilience. This is not another war memoir or a volume of combat reportage, but one of the few truly great and enduring books about America in the post-9/11 world." --Rajiv Chandrasekaran, author of Imperial Life in the Emerald City and Little America  

"Kael Weston is an American hero. He has spent more time in Iraq and Afghanistan than any general, diplomat, journalist or grunt. He has seen the wars up close, lived their cultures, watched people die. As a front-line political officer for the State Department, Weston has perhaps seen more of Iraq and Afghanistan than any single American. But what makes this book special--what makes Weston special--is his ability to transcend his own experience and bring it all home, and force us, as Americans, to ask ourselves the larger questions that these wars demand. This is a necessary book, and one that will last." --Dexter Filkins, author of The Forever War
 
"Few Americans have served their country with greater courage, commitment and lucidity than Kael Weston. As the United States comes to terms with over a decade of war, it needs his values and vision." --Roger Cohen, author of The Girl from Human Street and Soldiers and Slaves

"The Mirror Test is an elegy, and a love story, and like all elegies and love stories it involves equal parts ardor and heartbreak. It is also an assignment to Americans: look at yourselves, look at these wars. It's not only Weston's experience at State which place him in a position to deliver this assignment; it's his humanity, humility, and literary grace. These qualities bleed through the pages of this book, and reflect the humanity, humility, and grace of its subjects—Marines in Fallujah, Iraqis and Afghans in Anbar and Khost, leaders who tried to do right. And eventually, essentially, of civilians who mourn their children among the war dead." --Lea Carpenter, author of Eleven Days

"Kael Weston has written more than a book, he has written a requiem for the dead and the living. For those of us who fought and still fight in America's never-ending wars in Iraq and Afghanistan any sense of closure will continue to be illusory until we as a nation reckon with how this conflict has refigured our identity. Until then, The Mirror Test gives us something to gather around: our monument in pages." --Elliot Ackerman, author of Green on Blue

"Kael Weston's The Mirror Test is essential reading for anyone seeking to come to terms with our endless wars. Weston spent seven years in Iraq and Afghanistan working for the State Department, traveling among Iraqi sheiks, Afghan law students, senior diplomats and front-line Marine infantryman. A riveting, on-the-ground look at American policy and its aftermath." --Phil Klay, author of Redeployment
Knopf, 9780385351126, 608pp.
Publication Date: May 24, 2016
About the Author
JOHN KAEL WESTON represented the United States for more than a decade as a State Department official. Washington acknowledged his multi-year work in Fallujah with Marines by awarding him one of its highest honors, the Secretary of State's Medal for Heroism.

www.jkweston.com
Coverage from NPR
or
Not Currently Available for Direct Purchase