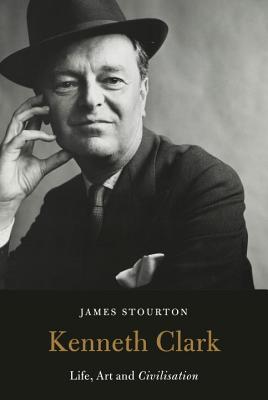 Kenneth Clark (Hardcover)
Life, Art and Civilisation
Knopf, 9780385351171, 496pp.
Publication Date: November 1, 2016
Other Editions of This Title:
Paperback (11/14/2017)
* Individual store prices may vary.
Description
The definitive biography of this brilliant polymath--director of the National Gallery, author, patron of the arts, social lion, and singular pioneer of television--that also tells the story of the arts in the twentieth century through his astonishing life.

Kenneth Clark's thirteen-part 1969 television series, Civilisation, established him as a globally admired figure. Clark was prescient in making this series: the upheavals of the century, the Cold War among others, convinced him of the power of barbarism and the fragility of culture. He would burnish his image with two memoirs that artfully omitted the more complicated details of his life. Now, drawing on a vast, previously unseen archive, James Stourton reveals the formidable intellect and the private man behind the figure who effortlessly dominated the art world for more than half a century: his privileged upbringing, his interest in art history beginning at Oxford, his remarkable early successes. At 27 he was keeper of Western Art at the Ashmolean in Oxford and at 29, the youngest director of The National Gallery. During the war he arranged for its entire collection to be hidden in slate mines in Wales and organized packed concerts of classical music at the Gallery to keep up the spirits of Londoners during the bombing. WWII helped shape his belief that art should be brought to the widest audience, a social and moral position that would inform the rest of his career. Television became a means for this message when he was appointed the first chairman of the Independent Television Authority. Stourton reveals the tortuous state of his marriage during and after the war, his wife's alcoholism, and the aspects of his own nature that he worked to keep hidden. A superb work of biography, Kenneth Clark is a revelation of its remarkable subject.
About the Author
JAMES STOURTON, the former chairman of Sotheby's U.K., is the author of many books, including Great Houses of London and Great Collectors of Our Time. A lecturer on history, he is also a senior fellow of the Institute of Historical Research at the University of London.
Praise For Kenneth Clark: Life, Art and Civilisation…
"[A] crisp and authoritative biography…[told] with grace and wit…a pre-eminent figure of cultural life during the 20th century…Clark recognized that in dark times there is a yearning for serious art, music and literature...Civilization is fragile, he understood. About its development, and about the possibility of succumbing to forces of chaos, he warned, 'We got through by the skin of our teeth, and it might happen again.'"
–Dwight Garner, The New York Times

"Learned…eloquent…[Stourton] carefully chronicles Clark's rather loveless childhood, his apprenticeship with Berenson in Italy, his appointment as keeper of fine art at the Ashmolean Museum at Oxford, at the astonishing age of 27, his rise to command the National Gallery at 30…[and his] influence in the world of television."
–Dan Hofstadter, The Wall Street Journal
 
"Outstanding...Stourton proves to be a highly capable guide to this significant 20th-century life...A sparkling, thoroughly entertaining portrait of a brilliant popularizer who brought art to the masses."
–Kirkus Reviews  

"James Stourton leaves no stone unturned in Kenneth Clark, his magisterial and engrossing biography, which achieves a perfect balance between Clark's complex private world and his hugely successful career."
–Amanda Foreman, author of A World on Fire: Britain's Crucial Role in the American Civil War


"Superb…Stourton, a former chariman of Southeby's, is the ideal choice for Clark's official biographer and has produced an accomplished book that is scholarly, entertaining, beautifully written and sympathetic, while far from uncritical."
–Michael Prodger, The Times
 
 
"Richly detailed, colourful and astute…a resplendent biography."
–John Carey, The Sunday Times
 
 
"An astute study…Stourton has dissected his subject's multiple personae and unpicked his ambiguities and evasions…[He] astutely analyses Clark's emotional and intellectual contradictions."
–Peter Conrad, The Guardian