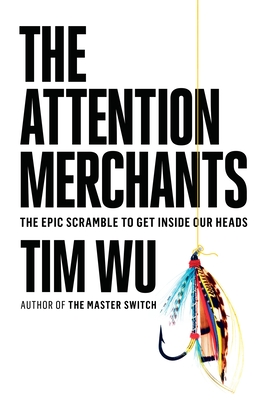 The Attention Merchants (Hardcover)
The Epic Scramble to Get Inside Our Heads
Knopf, 9780385352017, 416pp.
Publication Date: October 18, 2016
Other Editions of This Title:
Digital Audiobook (10/17/2016)
Paperback (9/19/2017)
* Individual store prices may vary.
Description
From Tim Wu, author of the award-winning The Master Switch ( a New Yorker and Fortune Book of the Year) and who coined the term "net neutrality"—a revelatory, ambitious and urgent account of how the capture and re-sale of human attention became the defining industry of our time.
 
Feeling attention challenged? Even assaulted? American business depends on it. In nearly every moment of our waking lives, we face a barrage of messaging, advertising enticements, branding, sponsored social media, and other efforts to harvest our attention. Few moments or spaces of our day remain uncultivated by the "attention merchants," contributing to the distracted, unfocused tenor of our times. Tim Wu argues that this condition is not simply the byproduct of recent technological innovations but the result of more than a century's growth and expansion in the industries that feed on human attention. From the pre-Madison Avenue birth of advertising to the explosion of the mobile web; from AOL and the invention of email to the attention monopolies of Google and Facebook; from Ed Sullivan to celebrity power brands like Oprah Winfrey, Kim Kardashian and Donald Trump, the basic business model of "attention merchants" has never changed: free diversion in exchange for a moment of your consideration, sold in turn to the highest-bidding advertiser. Wu describes the revolts that have risen against the relentless siege of our awareness, from the remote control to the creation of public broadcasting to Apple's ad-blocking OS. But he makes clear that attention merchants are always growing new heads, even as their means of getting inside our heads are changing our very nature--cognitive, social, political and otherwise--in ways unimaginable even a generation ago.
 
"A startling and sweeping examination of the increasingly ubiquitous commercial effort to capture and commodify our attention…We've become the consumers, the producers, and the content. We are selling ourselves to ourselves."
—Tom Vanderbilt, The New Republic
 
"An erudite, energizing, outraging, funny and thorough history…A devastating critique of ad tech as it stands today, transforming "don't be evil" into the surveillance business model in just a few short years. It connects the dots between the sale of advertising inventory in schools to the bizarre ecosystem of trackers, analyzers and machine-learning models that allow the things you look at on the web to look back at you…This stuff is my daily beat, and I learned a lot from Attention Merchants."
—Cory Doctorow, BoingBoing 

"Illuminating."
—Jacob Weisberg, The New York Review of Books 
About the Author
TIM WU is an author, policy advocate, and professor at Columbia University, best known for coining the term "net neutrality." In 2006, Scientific American named him one of 50 leaders in science and technology; in 2007, 01238 magazine listed him as one of Harvard's 100 most influential graduates; in 2013, National Law Journal included him in "America's 100 Most Influential Lawyers"; and in 2014 and 2015, he was named to the "Politico 50." He formerly wrote for Slate, where he won the Lowell Thomas Gold medal for Travel Journalism, and is a contributing writer for The New Yorker. In 2015, he was appointed to the Executive Staff of the Office of New York State Attorney General Eric Schneiderman as a senior enforcement counsel and special adviser.
Praise For The Attention Merchants: The Epic Scramble to Get Inside Our Heads…
"Comprehensive and conscientious…Wu writes with elegance and clarity…[his] chapters about the early days of advertising are some of this book's most enjoyable, easily serving as a reader's companion to "Mad Men." Mr. Wu concludes his book with a cri de coeur, imploring us to regain custody of our attention, written so rousingly that it just may make you reconsider your priorities."  
–Jennifer Senior, The New York Times
 
"Compelling…sharp…Wu [is] a skilled thinker…he applies the thesis of a business cycle to explain the development of the advertising market and the ways in which it has adapted to avoid our natural inclination to ignore it…Wu dramatizes this push and pull to great effect…a "Hidden Persuaders" for the 21st century, just as we stand squarely on the threshold of a post-broadcast world where the algorithmic nano-targeting of electronic media knows our desires and impulses before we know them ourselves."
–Emily Bell, The New York Times Book Review


"A startling and sweeping examination of the increasingly ubiquitous commercial effort to capture and commodify our attention…We've become the consumers, the producers, and the content. We are selling ourselves to ourselves."
—Tom Vanderbilt, The New Republic
 
 
"Illuminating."
–Jacob Weisberg, The New York Review of Books
 

"Lively…An engrossing study of what we hate about commercial media…Vigorous and amusing, filled with details of colorful hucksterism and cunning attention-grabbing ploys along with revealing insights into the behavioral quirks they instill in us."
—Publisher's Weekly
 

"Part history and part social wake up call, this book is for everyone."
—Library Journal
 

"Forget subliminal seduction: every day, we are openly bought and sold, as this provocative book shows."
—Kirkus Reviews


"Tim Wu has written a profoundly important book on a problem that doesn't get enough— well, attention. Attention itself has become the currency of the information age, and, as Wu meticulously and eloquently demonstrates, we allow it to be bought and sold at our peril." 
–James Gleick, author of Time Travel: A History
 

"I couldn't put this fascinating book down. Gripping from page one with its insight, vivid writing, and panoramic sweep, The Attention Merchants is also a book of urgent importance, revealing how our preeminent industries work to fleece our consciousness rather than help us cultivate it."
–Amy Chua, Yale law professor and author of Battle Hymn of the Tiger Mother and The Triple Package
 

"Television entranced the masses. Digital media, more insidiously, mesmerizes each of us individually. In this revelatory book, Tim Wu tells the story of how advertisers and programmers came to seize control of our eyes and minds. The Attention Merchants deserves everyone's attention."
–Nicholas Carr, author of Utopia Is Creepy and The Shallows

 
"The question of how to get people to care about something important to you is central to religion, government, commerce, and the arts. For more than a century, America has experimented with buying and selling this attention, and Wu's history of that experiment is nothing less than a history of the human condition and its discontents."
–Cory Doctorow, Boing Boing
Coverage from NPR