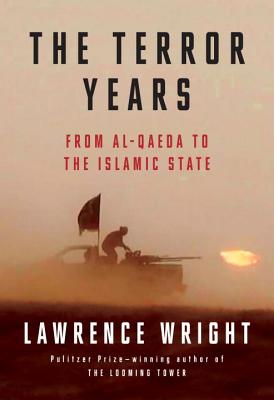 The Terror Years
From al-Qaeda to the Islamic State
Hardcover

* Individual store prices may vary.
Other Editions of This Title:
Digital Audiobook (8/22/2016)
Paperback (7/25/2017)
Description
With the Pulitzer Prize–winning The Looming Tower, Lawrence Wright became generally acknowledged as one of our major journalists writing on terrorism in the Middle East. Here, in ten powerful pieces first published in The New Yorker, he recalls the path that terror in the Middle East has taken, from the rise of al-Qaeda in the 1990s to the recent beheadings of reporters and aid workers by ISIS.

The Terror Years draws on several articles he wrote while researching The Looming Tower, as well as many that he's written since, following where and how al-Qaeda and its core cultlike beliefs have morphed and spread. They include a portrait of the "man behind bin Laden," Ayman al-Zawahiri, and the tumultuous Egypt he helped spawn; an indelible impression of Saudi Arabia, a kingdom of silence under the control of the religious police; the Syrian film industry, at the time compliant at the edges but already exuding a feeling of the barely masked fury that erupted into civil war; the 2006–11 Israeli-Palestinian conflict in Gaza, a study in the disparate value of human lives. Other chapters examine al-Qaeda as it forms a master plan for its future, experiences a rebellion from within the organization, and spins off a growing web of worldwide terror. The American response is covered in profiles of two FBI agents and the head of the intelligence community. The book ends with a devastating piece about the capture and slaying by ISIS of four American journalists and aid workers, and our government's failed response.
 
On the fifteenth anniversary of 9/11, The Terror Years is at once a unifying recollection of the roots of contemporary Middle Eastern terrorism, a study of how it has grown and metastasized, and, in the scary and moving epilogue, a cautionary tale of where terrorism might take us yet. 
Praise For The Terror Years: From al-Qaeda to the Islamic State…
"This is reportage pure and simple—and it is first-rate . . . [Mr. Wright] recounts his findings in crystalline prose [and] never loses his own moral compass." —Max Boot, The Wall Street Journal

"One of [our] most lucid writers . . . again helps us understand Islamic extremism and the West's reaction to it . . . in his superb and gracefully written accounts of the past three decades. He maintains a studious balance in all his essays [and] describes more clearly than most writers on terrorism the attitudes, clothes, and habits of the characters he discusses." —Ahmed Rashid, The New York Review of Books

"Definitive: a narrative roadmap of how we got here, from the ashes of Lower Manhattan to the rise of the Islamic State . . . Few journalists understand [this] ever-evolving war better than Wright." —Michael Friscolanti, Maclean's

"A new insightful, informative series of essays . . . Taken together, they provide a thoughtful analysis of the forces that have shaped a volatile part of the world and the policies that have made peace so elusive." —Dale Singer, The St. Louis Post-Dispatch

"Wright [weaves] his research . . . into a fine tapestry of personal experience and unobtrusive reflection." –James Traub, The New York Times Book Review

"Compelling. . . . Insightful. . . . Wright takes readers on a disquieting journey through the world of violent jihadism, spending time with its perpetrators, its theorists, its mavericks, its victims, and its enemies. . . . Wright's portrait of the spiritual home of contemporary jihadism will be as chilling as it is credible." —John Waterbury, Foreign Affairs

"Wright has a gift only the most talented journalists possess: Whether unpacking large and complex entities like al-Qaeda or drawing in-depth profiles of FBI agents, he brings the world vividly to our fingertips." —O Magazine

"Clear and sharp writing . . . Each story is a densely packed nugget of information." –USA Today

"Riveting . . . Wright describes how al-Qaeda's philosophy spread and morphed into the ideology and practices of ISIS today, [including] a fascinating account of Saudi society and government . . . This informative book will appeal to all readers interested in the genesis and development of terrorist movements." —Library Journal

"Vital prose . . . Wright has profiled the key players, detailed the major events, and tried with an almost forlorn kind of insistence to make sense of the senseless." —Steve Donoghue, The Christian Science Monitor

"Uniformly excellent." —Joe Gross, Austin American-Statesman

"Intricate, painstaking reporting." —Michael Hoinski, Texas Monthly

"Wright is an old-school reporter, relying on face-to-face interviews rather than e-mail, grinding out his research by frequent visits to the Middle East, many times in dangerous places, meeting anonymous (and mysterious) sources." —Bob Hooper, Minneapolis Star Tribune
 
"Anyone who reflects on these thorough, thoughtful pieces will be better equipped to evaluate the prescriptions for [fighting terrorism]." —Shelf Awareness
 
"Behind the daily headlines there are lives in the balance. With these pages Wright does those lives a great service." —Chris Vognar, The Dallas Morning News

"A brilliant volume that is a must-read for anyone looking for greater illumination of the baffling world of religious extremism." —Carl Hays, Booklist

"Vivid firsthand reportage . . . Wright investigates every facet of the shadowy conflict [in] these dispatches from the frontlines of the 'war on terror.' He writes with empathy for every side while clearly registering the moral catastrophes that darken this pitiless struggle." —Publishers Weekly 

"Wright displays his top-notch reporting in stories about a disintegrating Syria, the never-ending conflicts between Israelis and Palestinians, the faith-based beliefs that undergird al-Qaida and the Islamic State group, and the massive failures of American intelligence agencies . . . Yet more great work from a dedicated journalist." —Kirkus Reviews
Knopf, 9780385352055, 384pp.
Publication Date: August 23, 2016
About the Author
LAWRENCE WRIGHT is a staff writer for The New Yorker and the author of eight previous books of nonfiction, including In the New World, Remembering Satan, The Looming Tower, Going Clear, and Thirteen Days in September, and one novel, God's Favorite. His books have received many prizes and honors, including a Pulitzer Prize for The Looming Tower. He is also a playwright and screenwriter. He and his wife are longtime residents of Austin, Texas.
 
www.lawrencewright.com
Coverage from NPR
or
Not Currently Available for Direct Purchase