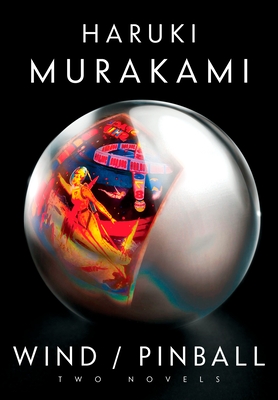 Wind/Pinball (Hardcover)
Two novels
Knopf, 9780385352123, 256pp.
Publication Date: August 4, 2015
Other Editions of This Title:
Digital Audiobook (8/3/2015)
Compact Disc (8/4/2015)
Paperback, Large Print (8/4/2015)
* Individual store prices may vary.
Description
NATIONAL BESTSELLER

In the spring of 1978, a young Haruki Murakami sat down at his kitchen table and began to write. The result: two remarkable short novels—Hear the Wind Sing and Pinball, 1973—that launched the career of one of the most acclaimed authors of our time.

These powerful, at times surreal, works about two young men coming of age—the unnamed narrator and his friend the Rat—are stories of loneliness, obsession, and eroticism. They bear all the hallmarks of Murakami's later books, and form the first two-thirds, with A Wild Sheep Chase, of the trilogy of the Rat. 

Widely available in English for the first time ever, newly translated, and featuring a new introduction by Murakami himself, Wind/Pinball gives us a fascinating insight into a great writer's beginnings.
About the Author
HARUKI MURAKAMI was born in Kyoto in 1949 and now lives near Tokyo. His work has been translated into more than fifty languages, and the most recent of his many international honors is the Jerusalem Prize, whose previous recipients include J. M. Coetzee, Milan Kundera, and V. S. Naipaul.
Praise For Wind/Pinball: Two novels…
"More than anyone, Haruki Murakami invented 21st-century fiction. . . . He is the novelist of our mash-up epoch and the subversive who, by intent or not, lit the fuse to whatever 'canon' of the previous century anybody still takes seriously. . . .Murakami is the first major Japanese author born in the radioactive white light of the modern age. . . . [His] atomic sensibility characterizes world literature. . . . If Murakami's hybrid futurism is a product of Japanese tradition clashing with local postmodernism, then the greatest revelation of his debut is how this contradiction has raged in Murakami from the outset. . . . Recalling the prologue that Thomas Pynchon wrote more than 30 years ago for his collection 'Slow Learner,' Murakami's introduction to Wind/Pinball affords the reader a rare glimpse behind the curtain of a mysterious creative process. . . . On some subliminal level the tension and power of Murakami's stories reside in the reader's hope, sometimes fulfilled and sometimes dashed, for reconciliation between the storyteller and his story."  —The New York Times Book Review

"Powerful, unsettling, mature novels, replete with many of the same distinctive traits that characterize [Murakami's] later fiction: jazz, beer, a gentle surrealism, a tendency to treat the strange and the mysterious as mundane facts of life and characters haunted by an ineffable, pervasive melancholy. . . . Murakami gives his characters' quirks a humanizing legitimacy. . . . Both novels' metaphors, which are often beautifully suggestive, also cluster around certain core themes." —Chicago Tribune
 
"Murakami's trademark postmodernist flourishes abound—disrupting the narrative to insert a song lyric, say, or a graphic of a T-shirt—and never fail to surprise and delight." —O, The Oprah Magazine

"A fresh, heart-warming dose of the Japanese master. . . . These new-old books are short but by no means slight. Nor are they only for hard-core Murakami fans." —The Economist
 
"[Wind/Pinball] clearly show[s] a writer of innovation emerging and developing his formidable talent. . . . Both books have that unique blend of melancholy and beauty that Murakami manages so well; they are mysterious, moreish. . . . Novella-sized, they incorporate the themes that preoccupy Murakami to the present day, and bear much of the same style. . . . What is also there, especially in Hear the Wind Sing, is reflections on writing itself, as if Murakami were stating his reasons, and his need, to tell stories. . . . What stands out in both books is the writing, beautiful in its simplicity, and also the deadpan humour and one-liners. . . . The dialogue is sparklingly clever, drunkenly witty." —The Independent

"Elegiac, ambient, and matter-of-fact in [its] strangeness. . . . Given Murakami's fervent fan base and the enduring strangeness that characterizes his work, it's not surprising that an aura of mystery surrounds his first two novels: the only previous English translations were published in Japan and they've been difficult to find in the West. Now 1979's Hear the Wind Sing and the following year's Pinball, 1973, written while the budding author operated a Tokyo jazz club, are finally available in one volume as Wind/Pinball, and Murakami obsessives are in for a treat. All the hallmarks of Murakami are here at their genesis, including his seemingly simple style, which he describes in an indispensable foreword. . . . Both novels, of course, feature digressions on beer, historical oddballs, obscure trivia, and jazz." —Publishers Weekly

"What establishes these two novellas as quintessential Murakami are not just the themes of isolation and loneliness that will characterise many of his later works, nor their colloquial style that positions them firmly in the familiar territory of classic American coming-of-age novels. It's that both stories hint at the unique, postmodern blend of the real and the surreal, the quotidian and the allegorical for which Murakami would later become famous. . . . Murakami fans will no doubt delight in this new publication. For newcomers, these early works are an excellent introduction to a writer who has since become one of the most influential novelists of his generation." —The Guardian

"Electric. . . . A singular work—actually two singular works. . . . These short works are among Murakami's most carefully crafted offerings, full of raw talent, energy and magic, and totally worth getting lost in. . . . .. Murakami uses white space like Raymond Carver. . . . [Wind/Pinball] ranks with Murakami's strongest prose." —Electric Literature

"Though these stories—two of the so-called Rat Trilogy—are more than 40 years old, marking the very beginning of Murakami's career, they are full of trademark turns. . . . There's a Beatles record on the turntable at all times, of course, offering the possibility of peace and love and unity. . . . It's interesting to see hints of the masterly novels to come." —Kirkus Reviews

"The writing and, above all, Murakami's way of making emotionally resonant images and symbols bump around on the page, and in one's mind, remains fresh, miraculously, more than 35 years on." —Evening Standard
 
"Indispensable." —The Free Lance-Star

"Electric. . . . A singular work—actually two singular works. . . . Among Murakami's most carefully crafted offerings, full of raw talent, energy and magic, and totally worth getting lost in. . . . .. Murakami uses white space like Raymond Carver. . . . [Wind/Pinball] ranks with Murakami's strongest prose." —Electric Literature

"Short, darkly magical coming-of-age tales." —Elle

"A sympathetic work that reads almost like a memoir. . . . Wind/Pinball is a playful introduction to Murakami's inventive style, tropes and all. . . . With a funhouse twist, the casual adventures of Wind/Pinball impart a self-aware honesty that will serve as inspiration for any aspiring writer while acting as mirrors to the emotional landscapes of our lives." —The Daily Californian
 
"A reading experience that causes personal reflection [and] thoughts larger than ourselves. . . . Even though they were released separately, combining the two works into one volume fits perfectly, as they feel like two sides of a tape, and when one side reaches its conclusion, the other is ready to begin." —Huffington Post
 
"Utterly delightful. . . . [The novellas] both have that indelible sense of detachment that permeates all of Murakami's fiction, a deadpan dreaminess that fatalistically accepts all manner of remarkable goings-on." —Northwest Arkansas Democrat-Gazette

"A great treat—both for Murakami enthusiasts and for the more casually interested reader. . . . A pair of early literary excursions that are never less than insightful and intelligent; brisk and diverting; unusual and transporting; and that offer a fascinating insight into the imagination of a young writer. . . . The vigour and playfulness with which Murakami handles these peculiar, shifting stories makes for a volume that even those unfamiliar with his writing are likely to enjoy, and there is plenty here for the aficionado, too." —The National (UAE)
or
Not Currently Available for Direct Purchase