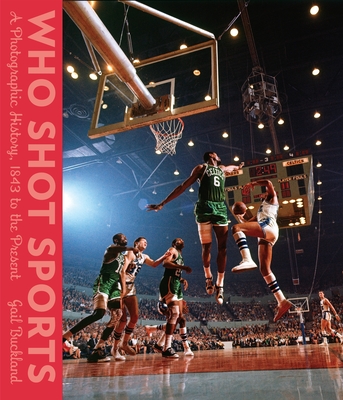 Who Shot Sports
A Photographic History, 1843 to the Present
Hardcover

* Individual store prices may vary.
Description
From the creator/editor of Who Shot Rock & Roll ("I loved this book" —Dwight Garner, The New York Times. "Whatever Gail Buckland writes, I want to read"), a book that brings together the work of 165 extraordinary photographers, most of their images heralded, most of their names unknown; photographs that capture the essence of athletes' mastery of mind/body/soul against the odds, doing the impossible, seeming to defy the laws of gravity, the laws of physics, and showing what human will, discipline, drive, and desire look like when suspended in time. The first book to show the range, cultural importance, and aesthetics of sports photography, much of it legendary, all of it powerful.

Here, in more than 280 spectacular images—more than 130 in full color—are great action photographs; portraits of athletes, famous and unknown; athletes off the field and behind the scenes; athletes practicing, working out, the daily relentless effort of training and achieving physical perfection.

Buckland writes that sports photographers have always been central to the technical advancement of photography, that they have designed longer lenses, faster shutters, motor drives, underwater casings, and remote controls, allowing us to see what we could never see—and hold on to—with the naked eye.

Here are photographs by such masters as Henri Cartier-Bresson, Robert Capa, Danny Lyon, Walker Evans, Annie Leibovitz, and 160 more, names not necessarily known to the public but whose photographic work is considered iconic . . . Here are photographs of Willie Mays . . . Carl Lewis . . . Ian Botham . . . Kobe Bryant . . . Magic Johnson . . . Muhammad Ali . . . Serena Williams . . . Bobby Orr . . . Stirling Moss . . . Jesse Owens . . . Mark Spitz . . . Roger Federer . . . Jackie Robinson.

Here is the work of the great sports photographers Neil Leifer, Walter Iooss Jr., Bob Martin, Al Bello, Robert Riger, and Heinz Kleutmeier of Sports Illustrated, who was the first to put a camera at the bottom of an Olympic swimming pool and photograph swimmers from below . . . Here are pictures by Charles Hoff, the New York Daily News photographer of the 1930s, 1940s, and 1950s, whose images of the 1936 Berlin Olympics still inspire shock and awe . . . and those of Ernst Haas, whose innovative color pictures of bullfighting of the 1950s remain poetic evocations of a bloody sport . . .

To make the selections for Who Shot Sports, Buckland, a former curator of the Royal Photographic Society of Great Britain and Benjamin Menschel Distinguished Visiting Professor at Cooper Union, has drawn upon the work of more than fifty archives, from the Museum of Fine Arts, Houston, to Sports Illustrated, Condé Nast, Getty Images, the National Baseball Hall of Fame, L'Équipe, The New York Times, and the archives of the International Olympic Committee in Lausanne.

Here are classic and unknown sports images that capture the uncapturable, that allow us to experience "kinetic beauty," and that give us the essence and meaning—the transcendent power—of sports.
Praise For Who Shot Sports: A Photographic History, 1843 to the Present…
Acclaim for Gail Buckland's
Who Shot Sports
 
"Monumental . . . Indisputably, the most comprehensive and definitive tribute to the long unsung photographers who shot our most iconic sports photographs—photographs that reside in the collective memory of not just sports fans, but of anyone who recognizes great works of art. Buckland, doff your cap—you've hit a walk-off home run . . . A remarkable accomplishment . . . Excellent . . . Lucid and illuminating."
—Peter Stamelman, Brooklyn Daily Eagle
 
"An engrossing photo exhibition that more than proves the truism that a picture is, indeed, worth a thousand words . . . Fascinating and fun . . . Inspiring . . . Buckland's knowledge of the history, camera equipment, and photographers is comprehensive. She gives thrilling accounts of the lengths that photographers go through to get the shots they want—many times as physically daring as the athletes they are shooting . . . Illuminates the wide world of photosport journalism."
—Lew Whittington, New York Journal of Books
 
"Dazzling . . . Brilliant . . . Who Shot Sports offers a chance to show sports photographers some penitent tribute."
—Peter Schjeldahl, The New Yorker
 
"A sumptuous study . . . A glorious journey across time and space, bringing us around the world with style and grace . . . Buckland has selected works that showcase the power of photography to fleeting moments that can make or break the game . . . Who Shot Sports is not simply the greatest moments of the game, but a brilliantly curated effort to recreate the multiple sensations of competition as well . . . Buckland has used her wealth of knowledge to craft a singular volume that has been long missing."
—Miss Rosen, Crave
 
"Wonderful . . . A tribute to sports photographers everywhere . . . Buckland writes with such authority that her thoughts on photography, as an art form, and her analysis of individual images in and out of the sports context make this a must-read for pop culture enthusiasts and anyone interested in photography."
—Publishers Weekly
 
"Superb . . . illuminating . . . iconic . . . This is a collection of superlatives, with both subjects and artists in the finest of forms; it's difficult to single out highlights . . . Essential for all students of sports history and of photography and a fine gift for buffs as well."
—Kirkus (Starred Review)
Knopf, 9780385352239, 344pp.
Publication Date: July 5, 2016
About the Author
GAIL BUCKLAND has written or been a collaborator on fourteen books of photographic history, including Fox Talbot and the Invention of Photography, The Magic Image (with Cecil Beaton), The American Century (by Harold Evans), and Who Shot Rock & Roll. She lives in Brooklyn and upstate New York.
or
Not Currently Available for Direct Purchase