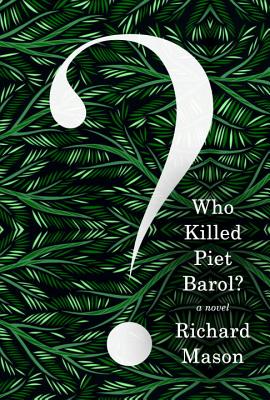 Who Killed Piet Barol? (Hardcover)
A novel
Knopf, 9780385352888, 384pp.
Publication Date: January 24, 2017
Other Editions of This Title:
Paperback (12/12/2017)
* Individual store prices may vary.
Description
A haunting, gloriously imagined novel by the acclaimed author of History of a Pleasure Seeker ("a classic" —The Washington Post), set in early twentieth-century colonial Cape Town, and a forest full of witch doctors, stingless bees, and hungry leopards.

It is 1914. Germany has just declared war on France. Piet Barol was a tutor before he came to South Africa, his wife, Stacey, an opera singer. In Cape Town they are living the high life, impersonating French aristocrats—but their lies are catching up with them.

The Barols' furniture business is on the verge of collapse. They need top-quality wood, and they need it cheap. Piet enlists two Xhosa [pron. KO-sa] men to lead him into a vast forest, in search of a fabled tree.

The Natives Land Act has just abolished property rights for the majority of black South Africans, and whole families have been ripped apart. Piet's guides have their own reasons to lead him through the trees, and to keep him alive while he's useful to them.

Far from the comforting certainties of his privileged existence, Piet finds the prospect of riches beyond measure—and the chance to make great art. He is sure he'll be able to buy what he needs for a few glass trinkets. But he's underestimating the Xhosa, who believe the spirits of their ancestors live in this sacred forest.

Battle lines are drawn. When Piet's powers of persuasion fail him, he resorts to darker, more dangerous talents to get what he is determined to have. As the story moves to its devastating conclusion, every character becomes a suspect, and Piet's arrogance and guile put him on a collision course with forces he cannot understand and that threaten his seemingly enchanted existence.
About the Author
RICHARD MASON is the author of four novels: The Drowning People (winner of Italy's Grinzane Cavour prize for Best First Novel), Us, Natural Elements (longlisted for the IMPAC and Sunday Times Literary Award), and History of a Pleasure Seeker ("A gorgeous confection"--The New York Times), longlisted for the Sunday Times Literary Award and shortlisted for a Lambda Literary Award. History of a Pleasure Seeker is currently in development as a TV series, produced by Oscar winner Alison Owen and directed by BAFTA-winning Philippa Lowthorpe. Mason lives in London and Cape Town.
Praise For Who Killed Piet Barol?: A novel…
Excitement for Richard Mason's
WHO KILLED PIET BAROL?
 
"Few writers are better than Mr. Mason at capturing, without shame or prurience, the pure pleasure of making love or eating . . . This beguiling novel portrays both the richness of such luxuries and the cruelties the human animal will commit to possess them."
—Sam Sacks, The Wall Street Journal
 
"The novel, piercing in its perceptions of South African history and the people whose lives were affected by the 1913 Natives Land Act, and lavishly descriptive of a country rich in culture and wildly lovely, subtly captures the reader's heart. Then breaks it. With well-drawn, compelling characterization; a frank and refreshing sensuality that permeates every aspect of life; and a range of complexity surprising for the book's short length, the novel turns the question posed by the title into a philosophical theme. Luminously reminiscent of Chinua Achebe's Things Fall Apart (1958) and recalling the disastrous culture clash of Barbara Kingsolver's Poisonwood Bible (1998)."
—Booklist, Starred Review
 
"A poignant, riveting tale . . . dastardly, sensuous, mysterious."
—The Sunday Times
 
"Exquisite and gripping."
—Observer (book of the year)
 
"A highly original book. Part magic realism, part fable, part history and wholly engrossing."
—The Times (book of the year)
 
"Preternaturally witty . . . Mason continues to earn his reputation with exquisitely crafted sentences and a dizzying knack for storytelling."
—Kirkus Reviews
 
"Mason elegantly rotates between characters (and animals) with wisdom, pathos and real humour, gently but thoroughly exploring race and identity at a moment of huge political turmoil: a grand success, entirely on its own terms, and a deceptively profound achievement."
—Press Association
 
"Mason writes with the awe of a true artist . . . Superb . . . his novels tell the rare and profound kind of truth that only stellar fiction can."
—Nicole Best, Pretoria News (South Africa)
 
"Eloquent, sensuous prose . . . Mason imbues the forest with life, taking readers inside the psyche of each tree, animal, or insect, as it senses the looming danger . . . Vivid . . . This profoundly tragic tale, in which colonialism battles tribal customs, and divisions of race and class sow distrust, should put Mason over the top."
—Sally Bissell, Library Journal (starred review)
 
"This is one of the finest novels I have read for many years. It has at its centre truth and beautiful prose: it doesn't get much better than that."
—Jennifer Crocker, The Cape Times
 
"An ambitious tale of colonial greed . . . Mason unspools a story rich in detail and populated with deeply flawed characters whose lives intersect in the once-pristine forest that inspires acts sacred and profane. Mason handles multiple story lines with an élan of a seasoned raconteur."
—Publishers Weekly
 
"A stunning tour de force that will leave you gripped, moved and inspired. A richly atmospheric historical novel that says much about the way we live now. Who Killed Piet Barol? is a book to read again and again: a compelling story written in luminous prose with vividly-realised characters . . . A writer at the height of his powers."
—Alex Preston
 
"Utterly entrancing . . . Richard Mason has created an epic narrative in which human failure and decency are opposing forces. Mason entwines the divided racial strands of South Africa in 1914 in a riveting tale seen through the eyes of both colonial whites and tribal black South Africans, as their paths converge in a search for survival and a better life . . . Richard Mason's is one of the outstanding writers of his generation. I wanted to re-reread it immediately."
—Geordie Greig, Mail on Sunday (book of the year)
 
"A triumph of a novel . . . Powerfully evocative and wholly absorbing . . . The detail, the colour, the passion—and the story! . . . It's a book that works on many, many levels, and lingers with you gently for many, many days after you reach its extraordinary end." 
—Gill Penlington, Director of News, CNN
 
"I loved it. Absolutely loved it. The story gripped me from the very first moment. Masterly, magical and brilliant."
—Jimmy Mulville, co-founder of Hat Trick Productions
or
Not Currently Available for Direct Purchase