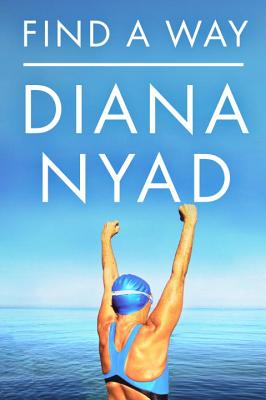 Find a Way
Hardcover

* Individual store prices may vary.
Other Editions of This Title:
Digital Audiobook (10/19/2015)
Paperback (6/28/2016)
Paperback, Vietnamese (7/1/2018)
Compact Disc (10/20/2015)
Description
Hillary Clinton said that Find a Way would stay with her through the general election:  "When you're facing big challenges in your life, you can think about Diana Nyad getting attacked by the lethal sting of box jellyfishes. And nearly anything else seems doable in comparison." 


On September 2, 2013, at the age of sixty-four, Diana Nyad emerged onto the sands of Key West after swimming 111 miles, nation to nation, Cuba to Florida, in an epic feat of both endurance and human will, in fifty-three hours. Diana carried three poignant messages on her way across this stretch of shark-infested waters, and she spoke them to the crowd in her moment of final triumph:

1.   Never, ever give up.
2.   You're never too old to chase your dreams.
3.   It looks like a solitary sport, but  it's a Team.

Millions of people around the world cheered this maverick on, moved by her undeniable tenacity to be the first to make the historic crossing without the aid of a shark cage. At the end of her magnificent journey, after thirty-five years and four crushing failures, the public found hope in Diana's perseverance. They were inspired by her mantra—find a way—that led her to realize a dream in her sixties that had eluded her as a young champion in peak form.

In Find a Way, Diana engages us with a unique, passionate story of this heroic adventure and the extraordinary life experiences that have served to carve her unwavering spirit.

Diana was a world champion in her twenties, setting the record for swimming around Manhattan Island, along with other ocean-swim achievements, all of which rendered her a star at the time. Back then, she made the first attempt at the Mount Everest of swims, the Cuba Swim, but after forty-two hours and seventy-nine miles she was blown desperately off course. Her dream unfulfilled, she didn't swim another stroke for three decades.

Why, at sixty-four, was she able to achieve what she could not at thirty? How did her dramatic failures push her to success? What inner resources did Diana draw on during her long days and nights of training, and how did the power of the human spirit trump both the limitations of the body and the forces of nature across this vast, dangerous wilderness? This is the gripping story of an athlete, of a hero, of a bold mind. This is a galvanizing meditation on facing fears, engaging in our lives full throttle, and living each day with no regrets. 
Praise For Find a Way…
Praise for Find a Way
 
 
"This book is an inspiration"
—The Wall Street Journal
 
"It reads like a gripping thriller. Nyad is living proof that, as she says, 'you can live out your dreams if you refuse to ever, ever give up.'"
—People Magazine, Book of the week
 
"Inspiring"
—Good Morning America
 
"Astonishing"
—Houston Chronicle
 
"Outstanding… A masterful memoir… A powerful demonstration of what's possible when you don't give up your dreams."
—Christian Science Monitor
 
"Exciting… A life affirming story."
—Milwaukee Journal Sentinel
 
"Nyad is intelligently persuasive… The lady shall prevail."
—Publishers Weekly

"Inspiring reading for anyone who has ever dared to dream the impossible."
—Kirkus Reviews
 
"In this comprehensive autobiography, Nyad offers a fascinating glimpse into her life as a talented and fiercely determined athlete… This inspiring tale of overcoming seemingly impossible obstacles to achieve a lifelong dream provides a gripping example of the strength of the human spirit regardless of age."
—Library Journal
Knopf, 9780385353618, 320pp.
Publication Date: October 20, 2015
About the Author
For her maverick open-water performance of the 1970s, Diana Nyad was known as the world's greatest long-distance swimmer. For the next thirty years, Nyad was a prominent sports broadcaster and journalist, filing compelling stories for National Public Radio, ABC's Wide World of Sports, and others. She is a national fitness icon, has written three other books, is a talented linguist, and is one of today's most powerful and engaging public speakers.
or
Not Currently Available for Direct Purchase