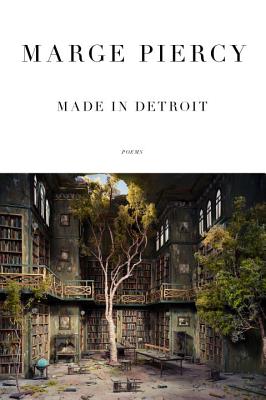 Made in Detroit
Poems
Hardcover

* Individual store prices may vary.
Other Editions of This Title:
Paperback (11/7/2017)
Description
A treasure trove of new poems by one of our most sought-after poets: poems that range from descriptions of the Detroit of her childhood to her current life on Cape Cod, from deep appreciations of the natural world to elegies for lost friends and relationships, from a vision of her Jewish heritage to a hard-hitting take on today's political ironies.

In her trademark style, combining the sublime with the gritty, Marge Piercy describes the night she was born: "the sky burned red / over Detroit and sirens sharpened their knives. / The elms made tents of solace over grimy / streets and alley cats purred me to sleep." She writes in graphic, unflinching language about the poor, banished now by politicians because they are no longer "real people like corporations." There are elegies for her peer group of poets, gone now, whose work she cherishes but from whom she cannot help but want more. There are laments for the suicide of dolphins and for her beloved cats, as she remembers "exactly how I loved each." She continues to celebrate Jewish holidays in compellingly original ways and sings praises of her marriage and the small pleasures of daily life.

This is a stunning collection that will please those who already know Marge Piercy's work and offer a splendid introduction to it for those who don't.
Praise For Made in Detroit: Poems…
"Made in Detroit traces the personal and poetic evolution that has made Marge Piercy one of the most esteemed and enduring writers of the past four decades. It begins with childhood memories of Depression-era Detroit, where she witnessed poverty, desolation and the silent struggles of her mother, who was dominated by an overbearing husband. Piercy's decision to speak for the voiceless fuels a lifelong journey that begins with some wild days, broken relationships and learning what it means to be a poet. One of those lessons—to speak authentically—shapes every section in the collection as Piercy shifts from the city to the natural world, where snow, the ocean and other forces soften or block human advances. . . . Some of the most powerful pieces show the speaker grappling with spirituality and struggling to be a better person. 'I walk  into this new beginning/of a self still under construction.' Works about marriage, enduring love and the loss of peers and relatives round out this collection, which beautifully weaves multiple threads into a rich portrait." –Elizabeth Lund, The Washington Post
 
"Piercy once again proves her talent for finding beauty anywhere and masterfully elevating it against the dark grit of reality. From her own humble beginnings in Detroit to her life on the Cape, Piercy reflects on how she's loved, how she's changed, how the country around her has evolved, and how her past continues to inform her present.   Touching and relatable, hers is a journey you won't want to miss."—Meaghan Wagner, Everyday eBook

"The excavation of landscape and memory bring a majestic tone to Piercy's 19th collection. Her poetry is softened by nostalgia and plainspoken language; it is sharpened by striking images and her fury at the failures of social society."—Anna Clark, The Detroit Free Press

A working-class gal who grew up in Detroit in the wake of the Great Depression, Piercy begins her nineteenth poetry collection with an autobiographical sequence of electrifying braggadocio and deep pain. She declares that she was saved by books. "Libraries were my cathedrals. Librarians / my priests promising salvation." Piercy also experienced transcendence in nature, eventually finding her true home on Cape Cod. Piercy writes sensitively of the glory of the sea, storms, the seasons, but always with a divining sense of the living world's hard lessons. In jabbing and fleet-footed poems that swing from rapture to outrage, she describes a heron wrestling with a snake, salutes the mummichog, a scrappy little fish tolerant of climate extremes and pollution, and shares a gardener's knowledge of the changes wrought by global warming. Writing poignantly of social injustice, Jewish holidays, marriage, and age, Piercy, frank, caustically witty, and caring, generates suspense, drama, and arresting images, such as when she envisions her many selves, embodied in all the clothes she's ever worn, "strung on a blocklong clothesline." --Donna Seaman, Booklist
Knopf, 9780385353885, 192pp.
Publication Date: March 31, 2015
About the Author
MARGE PIERCY is the author of eighteen previous poetry collections, a memoir, seventeen novels, and a new book of short stories. Her work has been translated into nineteen languages, and she has won many honors, including the Golden Rose, the oldest poetry award in the country. She lives on Cape Cod with her husband, Ira Wood, the novelist, memoirist, community radio interviewer, and essayist. She has given readings, lectures, or workshops at more than five hundred venues in the States and abroad.

www.margepiercy.com
or
Not Currently Available for Direct Purchase