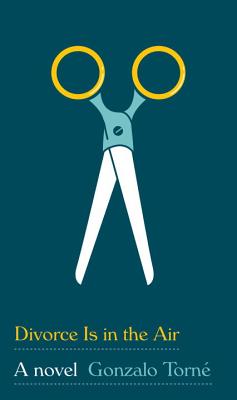 Divorce Is in the Air
A novel
Hardcover

* Individual store prices may vary.
Description
The American debut of a highly acclaimed Spanish writer: a sly, acerbic novel about love—or the end of love—and how hard it can be to let go.

There's a lot about Joan-Marc that his second wife doesn't know—and that he now sets out to tell her, come what may. He begins with his disastrous first marriage to an American named Helen, and the vacation they took in a last-ditch attempt to save their relationship. From there Joan-Marc unfurls the story of his life, from early memories of adolescence to a reckoning with mortality in his forties: friendships he abandoned, women he wronged, the wide swathe he cut across polite society in Madrid and Barcelona. Joan-Marc may be the kind of man we love to hate, yet his caustic wit, nostalgia, and self-pity are ultimately as winning as they are devastating.

Here is an audacious new voice, an unapologetic portrait of an antihero navigating the perilous shoals of modern life—a man struggling with long-held illusions about the inexorable forward march of time.
Praise For Divorce Is in the Air: A novel…
"The gifted Spanish writer Torné is one of the most accomplished stylists of his generation . . . The novel is fun and engaging, with an early sidesplitting section of wisecracks on the rivalry between the cities of Madrid and Barcelona . . . It reads almost like a Catalan lad-lit mash-up with writers of the American tradition of Updike, Roth, or Bellow." —Valerie Miles, New York Times Book Review

"A scathingly funny novel." —New York Times 

"On one level, Divorce Is in the Air is a hilariously venomous account of a marriage that subsists exclusively on make-up sex. But in charting its bloody dissolution, Torné smuggles in pungent meditations on aging and mortality . . . The novel's narrator is a comandante of connubial combat . . . Burn[s] with a rancorous energy." —Sam Sacks, The Wall Street Journal

"In a muscular, nimble, and exuberant stream-of-consciousness flow reminiscent of the iconic master of the genre, David Foster Wallace, Torné offers a maniacally playful yet fiercely revelatory study of a man coming to grips with life's greatest joys and losses." —Booklist

"This English-language debut by a young Spanish novelist could have been titled Joan-Marc's Complaint, though the narrator doesn't share the masturbatory obsession of Philip Roth's hero . . . He is savagely funny, sometimes intentionally but often not . . . What does he desire? And who is he? As narrator and reader attempt to put that puzzle together, the narration becomes darker and deeper . . . The author's virtuosic command of voice sustains the narrative momentum." —Kirkus Reviews (starred)

"Torné's stylishly universal excursion into one man's breakdown is lively and convincing, and resonates with the remorseless panic of modern existence . . . Very clever, often hilarious . . . The easiest way to describe it is to say it is a Spanish variation on Philip Roth's Portnoy's Complaint. [But] there is nothing particularly Spanish about the book; it could as easily have been written by Haruki Murakami . . . The appeal of this fast-moving story lies in the narrative voice, exasperated yet laconic . . . Inspired . . . For a novel so full of words, a surprising amount is left unsaid, which makes it all the more effective and unexpectedly fresh." —Irish Times

Praise from Spain:
 
"Torné constructs a world that plumbs the depths of the human condition at the same time as exploring the formal possibilities of the novel." —El Cultural (El Mundo)
 
"Tremendously well written . . . A novel that constantly provokes its reader . . . Torné puts his hands into the mud of a marital separation to tell this other, more complex story: about what happens between life and those who live it." —Vozpópuli
 
"Divorce Is in the Air is principally the story of a breakup, but it is also a profound reflection on the unavoidable passage of time, about nostalgia, family, love, misunderstandings and the frustrations that one can never get past." —Culturamas
 
"Torné's formal virtuosity is always in the service of his story and his characters." —Númerocero
 
"One of the most devastating arguments against marriage in the history of Spanish literature . . . Torné explores the profundities of the human condition through a narration of important truths.  His ability to create fascinating situations pulls the reader in." —El País Vasco
Knopf, 9780385354028, 320pp.
Publication Date: August 16, 2016
About the Author
GONZALO TORNÉ was born in Barcelona in 1976. He is the author of two previous novels published in Spain, for which he won the Premio Jaén de Novela and was a finalist for the Premio Nacional de Narrativa. He has also translated work by William Wordsworth and John Ashbery into Spanish. He lives in Barcelona.
or
Not Currently Available for Direct Purchase