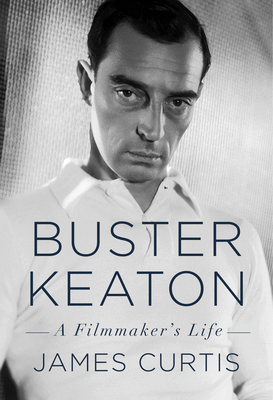 Buster Keaton
A Filmmaker's Life
Hardcover

* Individual store prices may vary.
Other Editions of This Title:
Digital Audiobook (2/14/2022)
Description
From acclaimed cultural and film historian James Curtis—a major biography, the first in more than two decades, of the legendary comedian and filmmaker who elevated physical comedy to the highest of arts and whose ingenious films remain as startling, innovative, modern—and irresistible—today as they were when they beguiled audiences almost a century ago.

"It is brilliant—I was totally absorbed, couldn't stop reading it and was very sorry when it ended."—Kevin Brownlow

It was James Agee who christened Buster Keaton "The Great Stone Face." Keaton's face, Agee wrote, "ranked almost with Lincoln's as an early American archetype; it was haunting, handsome, almost beautiful, yet it was also irreducibly funny. Keaton was the only major comedian who kept sentiment almost entirely out of his work and . . . he brought pure physical comedy to its greatest heights."

Mel Brooks: "A lot of my daring came from Keaton."

Martin Scorsese, influenced by Keaton's pictures in the making of Raging Bull: "The only person who had the right attitude about boxing in the movies for me," Scorsese said, "was Buster Keaton."

Keaton's deadpan stare in a porkpie hat was as recognizable as Charlie Chaplin's tramp and Harold Lloyd's straw boater and spectacles, and, with W. C. Fields, the four were each considered a comedy king--but Keaton was, and still is, considered to be the greatest of them all.

His iconic look and acrobatic brilliance obscured the fact that behind the camera Keaton was one of our most gifted filmmakers. Through nineteen short comedies and twelve magnificent features, he distinguished himself with such seminal works as Sherlock Jr., The Navigator, Steamboat Bill, Jr., The Cameraman, and his masterpiece, The General.

Now James Curtis, admired biographer of Preston Sturges ("definitive"—Variety), W. C. Fields ("by far the fullest, fairest and most touching account we have yet had. Or are likely to have"—Richard Schickel, front page of The New York Times Book Review), and Spencer Tracy ("monumental; definitive"—Kirkus Reviews), gives us the richest, most comprehensive life to date of the legendary actor, stunt artist, screenwriter, director—master.
Praise For Buster Keaton: A Filmmaker's Life…
One of Literary Hub's most anticipated books of 2022 ... "A definitive biography that delves into the mystery behind the man who made America laugh in the early years of film."

"It is brilliant—I was totally absorbed, couldn't stop reading it and was very sorry when it ended."—Kevin Brownlow

"At long last, Buster Keaton gets the biography he deserves. James Curtis has given us a monumental book, one of the best Hollywood biographies ever written. Curtis has authored the definitive biographies of W.C. Fields, Preston Sturges, and Spencer Tracy, but this might well be his masterpiece."–David Weddle, author If They Move, Kill 'Em: The life and Times of Sam Peckinpah, writer-executive producer, For All Mankind, writer/supervising producer, Battlestar Galactica

"Vibrant . . . in Curtis's telling, Keaton's life is a picaresque worthy of his comedies . . . evocative, entertaining, and laced with lyrical detail. This is an engrossing portrait of a Hollywood legend."—Publishers Weekly (starred)
  
"Just as Buster Keaton's work transcends its flowering in silent films, so James Curtis's biography transcends the category of show business biography. In a narrative that majestically carries its subject from 19th century vaudeville to Cinerama to immortality, Keaton is given his due, not just as an artist, but as a man who lived a paradigmatic American Life."—Scott Eyman

"Film historian and biographer Curtis draws on abundant archival sources as well as interviews, memoirs, and previous biographies to create a comprehensive, warmly sympathetic life of iconic entertainer Joseph Frank "Buster" Keaton . . . lively . . . authoritative . . . Meticulous research informs a brisk biography of an entertainment icon."—Kirkus (starred)

"A valuable addition to the literature of film history."—Booklist
Knopf, 9780385354219, 832pp.
Publication Date: February 15, 2022
About the Author
JAMES CURTIS is the author of William Cameron Menzies: The Shape of Films to Come, Spencer Tracy: A Biography, and W. C. Fields: A Biography (winner of the 2004 Theatre Library Association Award, Special Jury Prize), among others. He lives in Brea, California.