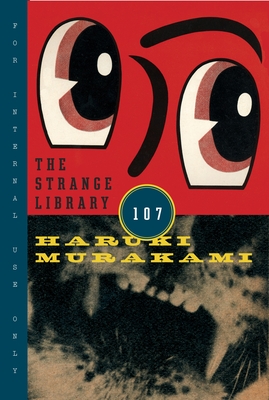 The Strange Library
Paperback

* Individual store prices may vary.
Other Editions of This Title:
Digital Audiobook (4/22/2015)
Digital Audiobook (12/1/2014)
Compact Disc (12/2/2014)
Description
From internationally acclaimed author Haruki Murakami—a fantastical illustrated short novel about a boy imprisoned in a nightmarish library.
 
Opening the flaps on this unique little book, readers will find themselves immersed in the strange world of best-selling Haruki Murakami's wild imagination. The story of a lonely boy, a mysterious girl, and a tormented sheep man plotting their escape from a nightmarish library, the book is like nothing else Murakami has written. Designed by Chip Kidd and fully illustrated, in full color, throughout, this small format, 96 page volume is a treat for book lovers of all ages.
Praise For The Strange Library…
"As if the work of Japanese fiction master Haruki Murakami weren't strangely beautiful by itself, his American publisher has just put out a stand-alone edition of his 2008 novella The Strange Library, in a new trade paperback designed by the legendary Chip Kidd. . . . The story itself, full of characters and images both awfully weird and utterly down to earth, transforms as you read it, becoming a living, nearly talismanic exercise in how to lift yourself out of the realm of the ordinary and allow the sentences to carry you into an alternate universe. . . . The mysterious pleasure of it all is the payoff when you read Murakami. Some scholar may explain it to us all one day, diagram the roots of his work in the Japanese storytelling tradition, in fable and myth, the special effects he imports from American literature. For me, now, I'm just enjoying basking in the heat of this hypnotic short work by a master who is playing a long game." —Alan Cheuse, NPR

"[A] charming, surreal story. . . . Cleverly designed and illustrated by Chip Kidd. . . . Whether he is writing for adults or children, [Murakami] remains a suspenseful and fantastical storyteller." —The Washington Post

"It had me enthralled . . . a story of childhood, death and reading, drawn in both words and pictures, like a fairytale, yet there was nothing childish about it. . . . Let the Murakami-mania begin (again)." —Arifa Akbar, The Independent (London)

"Murakami's wry metaphysical play feels no less diffuse in this concentrated form. His usual fascinations—the instability of identity, the uses of knowledge, the oppression of memory—fade in with just enough time to fade out, offering just enough light to coax you forward, deeper into the dream." —The Boston Globe
 
"Welcome . . . once again, to Murakamiland: sheep men, waifs, quests, attentiveness to little (odd) things, a labyrinth, a stairway down . . . absurdity and irrationality, the tension between the fantastical and the everyday, real and unreal, sadness and loss, then sudden shifts out of the blue, and plenty of the plain runic. . . . [The Strange Library] plumb[s] the kind of questions that leave us all wishing for more room to breathe: the singular and ever-solitary individual . . . the loss of identity (for better or worse), groping in the dark, self-understanding in an unknowable world, the dignity of idiosyncrasies. . . . The spirit and tone of the writing: As if Murakami is driving down a strange road, not know[ing] what's to come around the next curve: alert, aware, but as in the dark as the reader. He is, however, a really good driver." —The Christian Science Monitor
 
"Those who come to Mr. Murakami's work for the first time will be elated by the clarity and wit of his style as translated by Ted Goossen, and intrigued by his characters and the situations they face. The Strange Library . . .  stays in the mind because of its combination of brutality with flippancy, but mostly for its oddness. . . . In its own odd way it is a fun read."—Washington Times

"The Strange Library is a subteen's No Exit. . . . Beautifully designed. . . . Perfect for coffee tables in the gladsome season. . . . Readers looking for a light diversion in a heavily loaded holiday season should enjoy this existential vision." —The Miami Herald
  
"Japanese master Haruki Murakami's short fantasy tale The Strange Library, designed by Chip Kidd with sublime vintage Japanese graphics, takes readers on a wondrous journey to the mysterious underbelly of a Tokyo library." —Elle
 
"Striking. . . . [This] dryly funny, concise fable has all the hallmarks of the author's deadpan magic, along with some Grimm and Lewis Carroll thrown in for good measure. . . . The perfect trip down the rabbit hole." —The Free Lance-Star (Fredericksburg)
 
"Murakami manages to endow [these] pages with all that we have come to expect from his more leviathan tomes. . . . [Chip Kidd's illustrations] seem so essential that, having experienced Murakami's story in this version, one can hardly imagine it in any other form." —The Japan Times

"Dreamlike. . . . What is immediately clear . . . is just how much thought went into the design and illustrated content. . . . Published by Knopf, the U.S. edition is a Chip Kidd production, and while Kidd's prolific portfolio demonstrates how comfortable he is working within any and all design idioms, The Strange Library is an in-your-face zoom-in on the faded comics qualities Kidd so often employs when working on Murakami titles. . . . [The illustrations] are what ignite the reader's thoughts about what the narrator is up against. . . . The designs force the reader to actually read, and read into, the design. . . . Everything that comes to pass in The Strange Library, like in so much of Murakami's fiction, questions the differences between what is real and what is not, and whether such a distinction even matters. . . . Evocative, atmospheric." —The Millions

"Can a font be heart-breaking? I didn't think so, until now. . . . More than anything, I found myself free-associating while reading The Strange Library: Kafka, Dalí, Nabokov, and Poe all came to mind." —Jon Morris, PopMatters

"Designed by Chip Kidd, nearly every other page contains a beautiful image, often an abstract representation of what is happening to the narrator. This sinister story and gorgeous artwork come together like an unforgettable nightmare. This one has some major gifting potential." —Bustle

"At once beguiling and disquieting—in short, trademark Murakami—a fast read that sticks in the mind. . . . Murakami loves two things among many: Franz Kafka (think Kafka on the Shore) and secret places (think 1Q84). This latest, brief and terse, combines those two passions. . . . It would take a Terry Gilliam, or perhaps a Kurosawa, to film Murakami's nightmare properly." —Kirkus Reviews
 
"This dryly funny, concise fable features all the hallmarks of Murakami's deadpan magic, along with splashes of Lewis Carroll and the brothers Grimm. . . . Full-page designs from Chip Kidd divide the sections, bolstering the book's otherworldliness with images from the text alongside mazelike designs and dizzying close-ups of painted faces." —Publishers Weekly
Knopf, 9780385354301, 96pp.
Publication Date: December 2, 2014
About the Author
HARUKI MURAKAMI was born in Kyoto in 1949 and now lives near Tokyo. His work has been translated into more than fifty languages, and the most recent of his many international honors is the Jerusalem Prize, whose previous recipients include J. M. Coetzee, Milan Kundera, and V. S. Naipaul.
Coverage from NPR