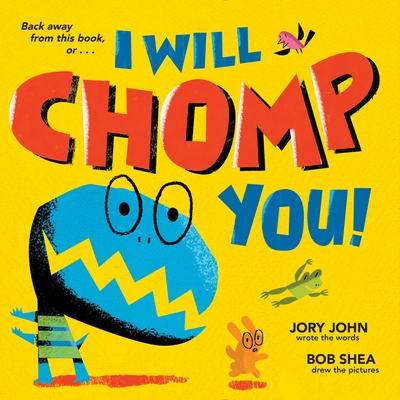 I Will Chomp You! (Hardcover)
Random House Books for Young Readers, 9780385389860, 40pp.
Publication Date: August 4, 2015
Other Editions of This Title:
Hardcover (8/4/2015)
* Individual store prices may vary.
Description
STOP RIGHT THERE. Don't move a muscle, buster. Stay out of this book or I WILL CHOMP YOU!
 
So says the not-so-fierce inhabitant of I Will Chomp You!, a tale of deception, greed . . . and cake!
 
In their funny read-aloud, Jory John and Bob Shea bring a fresh twist to a time-tested blueprint as their little monster threatens, reasons, and pleads with readers to go no further in the book because he will NOT share his beautiful, delicious cakes. Children will identify with the monster's high valuation of his possessions, and (importantly) will laugh at the silly measures he takes to protect them.

"A monster's reign of terror begins even before the title page: "HEY. GO AWAY." Turn to the title page and there the monster waits, blue-skinned and angry-eyed: "I WILL CHOMP YOU!" As the reader turns the pages, the monster's direct-address threats increase: "If you turn any more pages…I WILL CHOMP YOU, BUSTER!" Another page turn and the monster is even angrier: "NOW QUIT IT!" Until finally, "HEY! I'm warning you! You've been officially WARNED! CHOMP!" Unfortunately for the monster, the reader is just too fast, and its chomp misses the mark. The monster proceeds to bite, yell, and barrel its way through the pages, repeatedly trying to halt-by-chomping the reader from reaching its secret hidden in the back pages of the book (psst, it's cake). This book, written entirely as monster monologue, is all bright colors and sharp edges, creating a feeling of temper-tantrum immediacy that matches the silly-angry words. Shea's illustrations are bold but not too busy, giving the impression of fast movement and strong emotions, and the striped shirt–wearing monster is lovable in an ankle-biting kind of way. The fast pace, funny faces, and silly secret make this a great read-aloud." — Siân Gaetano THE HORN BOOK
About the Author
JORY JOHN is the author of the picture books I Will Chomp You!, Quit Calling Me a Monster!, and the E.B. White Read-Aloud Honor Book Goodnight Already!. He is the co-author of the New York Times bestselling novel, The Terrible Two, and the national bestseller All my friends are dead, among many other books. For six years, Jory taught writing at 826 Valencia, a nonprofit writing and educational center in San Francisco.
 
BOB SHEA has written and illustrated over a dozen picture books, including the popular Dinosaur vs. Bedtime and the cult favorite Big Plans, illustrated by Lane Smith. His characters and animations have appeared on Nick Jr., Playhouse Disney, and PBS Kids. Bob spends his days writing, drawing, and having "conversations" with NPR.
Praise For I Will Chomp You!…
PW
It's by now a familiar metafictive device—the bully inside the book who threatens readers with certain doom. "If you turn any more pages... I will chomp you, buster!" growls a blue monster that Shea (the Dinosaur vs. series) gives massive jack-o-lantern jaws and menacing charcoal eyebrows. He isn't too scary, though. For one thing, a rabbit, frog, and bird hover close to the monster's jaws and—like readers—escape every "Chomp!" "Well, I missed," admits the monster. "But I won't miss again." Halfway through, he fesses up: "You're probably wondering why I'm so eager to chase you away. Can you keep a secret? It's because I have all my cakes back here, at the end of the book." Tempting descriptions and appetizing pictures à la a 1950s dessert cookbook follow: "Cakes with sprinkles. Cakes with chocolate." There's more desperate chomping as the monster obliterates his stash before readers can get to it. Nothing's as fun as the dopey evildoer who can't win, and John's (Goodnight Already!) comedy makes this a surefire read-aloud for any crowd of cake-lovers. Ages 3–7. Agent: Steven Malk, Writers House. (Aug.)

KIRKUS REVIEW
Never mind a monster at the end, there's a monster all the way through this book!
Starting on Page 1, the protagonist monster uses direct address to warn readers not to turn any pages. The book's very title reveals the threat behind this warning, and Shea's toothy monster—all mouth and head and bluster—seems ready to follow through with it. Disobeying the command provokes metafictive peril as warnings to readers persist, and various small creatures depicted on the page (a bird, a frog, and a wee bunny) flee its chomping jaws. The monster misses both them and disobedient readers, growing increasingly angry. Clever illustration choices make it seem as though the monster has chomped through the pages of the book, and soon its commands devolve into pleading. Why? "It's because I have all my cakes back here, at the end of the book," the greedy monster explains. In a fiendish ploy to trick readers, the monster offers to share, saying, "just come a little closer…" and a page turn reveals (yet another) "CHOMP!" Defeated, the monster resigns itself to readers' progress toward the end of the book, and it chomps up all the cakes, leaving it with the just deserts of a bellyache. Throughout, Shea's vibrant, silly pictures diminish the scariness of the story's premise and deliver humorous characterization.
A metafictive treat. (Picture book. 3-5)