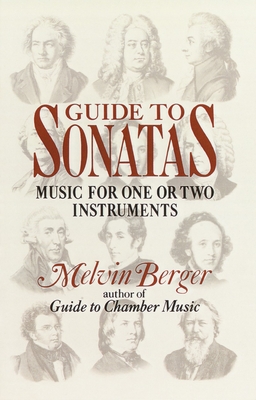 Guide to Sonatas: Music for One or Two Instruments (Paperback)
Music for One or Two Instruments
Anchor Books, 9780385413022, 224pp.
Publication Date: January 1, 1991
Description
With the same authority, insight, and unique ability to bring music to life on the printed page that he brought to his Guide to Chamber Music, Melvin Berger gives us an indispensable guide to the sonata form. Comprehensive, analytical, and historical, including descriptions in nontechnical language of over two hundred of the best best-known sonatas, Guide to Sonatas is designed to help all music lovers--casual listeners, experienced concertgoers, performers, conductors, or teachers--deepen their understanding and enhance their enjoyment of the classical repertoire. "Mr. Berger is a gifted writer, and his annotations . . . are jargon-free, informative, and balanced in their approach to the musical material. He does not talk down to his readers, nor lose his enthusiasm for his specialty. Others could emulate him with profit."--Musical America "Berger evokes the mood of each composition through judiciously chosen adjectives and alliterative expressions . . . he has found the right vocabulary to communicate with sophisticates and enthusiasts alike. Reading his analysis is the next best thing to listening to the work analyzed."--Wilson Library Bulletin
About the Author
MELVIN BERGER is the author of a number of books on musical subjects, and is program annotator for several symphonic and chamber organizations. He has a BM from the Eastman School of Music, an MA from Teacher's College, Columbia University, and is an Associate of London University. He has written liner notes for RCA Records, contributed articles to World Book, directed chamber music programs at Ball State University and Silvermine Guild, and taught at the City University of New York. At present, he is writing, performing as a chamber music violist, and lecturing in the New York City area.
Advertisement