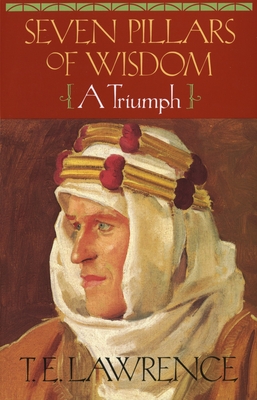 Seven Pillars of Wisdom
A Triumph (The Authorized Doubleday/Doran Edition)
Paperback

* Individual store prices may vary.
Other Editions of This Title:
Paperback (1/18/2011)
Paperback (1/31/2022)
Paperback (6/9/2017)
Hardcover (1/5/2009)
Paperback (10/18/2013)
Hardcover (8/16/2020)
Paperback (8/17/2020)
Hardcover (1/17/2011)
Paperback (1/1/2009)
Paperback (6/5/1997)
Paperback (4/18/2018)
Compact Disc (7/19/2022)
MP3 CD (2/11/2020)
MP3 CD (7/19/2022)
Compact Disc (2/11/2020)
Hardcover (12/1/1976)
Description
In his classic book, T.E. Lawrence—forever known as Lawrence of Arabia—recounts his role in the origin of the modern Arab world. At first a shy Oxford scholar and archaeologist with a facility for languages, he joined and went on to lead the Arab revolt against the Ottoman Turks while the rest of the world was enmeshed in World War I. With its richly detailed evocation of the land and the people Lawrence passionately believed in, its incisive portraits of key players, from Faisal ibn Hussein, the future Hashemite king of Syria and Iraq, to General Sir Edmund Allenby and other members of the British imperial forces, The Seven Pillars of Wisdom is an indispensible primary historical source. It helps us to understand today's Middle East, while giving us thrilling accounts of military exploits (including the  liberation of Aqaba and Damascus), clandestine activities, and human foibles.
Anchor, 9780385418959, 784pp.
Publication Date: June 1, 1991
About the Author
T. E. Lawrence was born to the Seventh Baron of Westmeath. He studied at Jesus College, Oxford, where he became interested in the Middle East. He worked for British Intelligence during the First World War and fought with the Arab forces to defeat the Turks. His exploits earned him the title of Lawrence of Arabia back in Britain. He resigned in 1922 and sought anonymity in the RAF where he enlisted as John Hume Ross. He later changed his name by deed poll to T. E. Shaw. Shortly after retiring from the RAF, T. E. Lawrence died in a motorcycle accident on May 19, 1935.