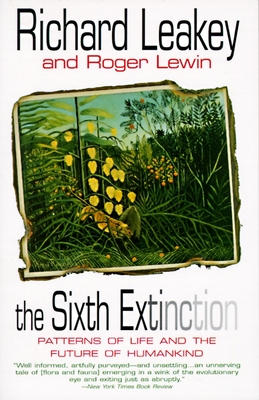 The Sixth Extinction
Patterns of Life and the Future of Humankind
Paperback

* Individual store prices may vary.
Description
Richard Leakey, One Of The World's  Foremost Experts On Man's Evolutionary Past, Now Turns  His Eye To The Future And Doesn't Like What He  Sees.

To the philosophical the  earth is eternal, while the human race -- presumptive  keeper of the world's history -- is a mere speck  in the rich stream of life. It is known that  nothing upon Earth is forever; geography, climate, and  plant and animal life are all subject to radical  change. On five occasions in the past, catastrophic  natural events have caused mass extinctions on  Earth. But today humans stand alone, in dubious  distinction, among Earth's species: Homo  Sapiens possesses the ability to destroy  entire species at will, to trigger the sixth  extinction in the history of life. In The Sixth  Extinction, Richard Leakey and Roger Lewin  consider how the grand sprawl of human life is  inexorably wreaking havoc around the world. The  authors of Origins and  Origins Reconsidered, unimpeachable  authorities on the human fossil record, turn their  attention to the most uncharted anthropological territory  of all: the future, and man's role in defining it.  According to Leakey and Lewin, man and his  surrounding species are end products of history and  chance. Now, however, humans have the unique  opportunity to recognize their influence on the global  ecosystem, and consciously steer the outcome in order  to avoid triggering an unimaginable upheaval.
Anchor, 9780385468091, 288pp.
Publication Date: October 1, 1996
About the Author
Richard Leakey is the world's most famous living paleoanthropologist. He resigned from his position as chairman of the National Museums of Kenya when Kenya's president, Daniel arap Moi appointed him to head the Kenya Wildlife Service. His parents were the archaeologists Louis Leakey and Mary Leakey. His half-brother is the leading plant scientist, Colin Leakey. 

Roger Lewin, PhD, is a biochemist, the former deputy editor of the British magazine New Scientist, and the author of Making Waves: Irving Dardik and His Superwave Principle, as well as many other highly praised books on biology such as Complexity: Life at the Edge of Chaos and Patterns in Evolution: The New Molecular View.