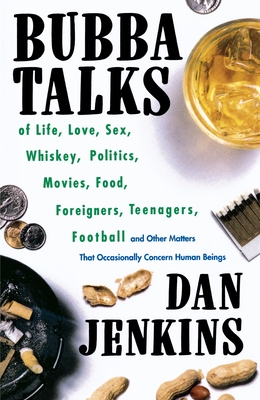 Bubba Talks (Paperback)
Of Life, Love, Sex, Whiskey, Politics, Foreigners, Teenagers, Movies, Food,
Anchor, 9780385470797, 164pp.
Publication Date: September 1, 1993
* Individual store prices may vary.
Description
Among the provocative social phenomena of our time, few have caught the public fancy as profoundly as that quintessentially American species known as Bubba. The conventional notion of Bubba is a Southern redneck who thinks a rented movie and a six-pack are quality entertainment. According to Dan Jenkins, this historical view has been advanced largely by "effete Easterners and West Coast ponytails who claim to like trout pizza and fat novels written by some kind of Ecuadorian." Granted, says Jenkins, there is more than one Bubba from Georgia who has spray-painted his girl's name on an overpass. But there is also more than one Bubba from Chicago who will do his Christmas shopping at Graceland. Bubba, Jenkins concludes, is a state of mind, and he proceeds to let Bubba define himself by speaking on topics ranging from beer to ballet, from haircuts to the homeless.
About the Author
Dan Jenkins is one of America's most acclaimed sportswriters as well as a bestselling novelist. A native Texan, he has spent a lifetime at the typewriter and computer. He might best be known for his twenty-four years of stories in Sports Illustrated and now Golf Digest. Three of his bestselling novels, Semi-Tough, Dead Solid Perfect, and Baja Oklahoma, were made into movies. His sportswriting has won him many awards. In 2012 he was inducted into the World Golf Hall of Fame—one of only three writers to be honored thus far—and was given the PEN Lifetime Achievement Award for Literary Sports Writing. He is also the 2013 winner of the Red Smith Award, the highest honor in his profession.