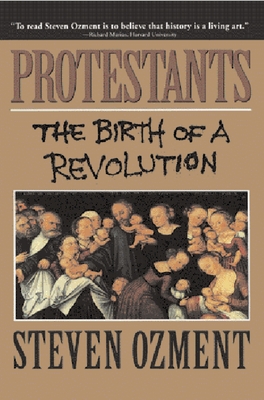 Protestants: The Birth of a Revolution (Paperback)
The Birth of a Revolution
Doubleday Books, 9780385471015, 284pp.
Publication Date: December 20, 2001
Description
Who were the first men and women who abandoned the Church of Rome and became the world's first Protestants? Harvard historian Steven Ozment does not present us with the remote, dusty figures of history, but rather with the shoemakers and housewives, students and politicians who were among the first followers of Martin Luther. Using pamphlets, diaries, letters, and other primary soruces, Ozment examines the origins of the Reformation and the nature of Protestantism. Rather than seeing the Reformation as the progenitor of German absolutism, as do many scholars of the period, Ozment sees in Protestantism the historic assertion of key Western values--social reform, individual religious conviction, hard work, and the rejection of corruption, hypocrisy, and empty ritual.
About the Author
Steven Ozment isa professor of history at Harvard University, a recipient of Guggenheim and NEH fellowships, and winner of the Schaff History Prize from the American Church History Society in 1981. He is the author of ten books, all in print. His Magdalena and Balthasar andThree Behaim Boys were selections of theHistory Book Club. His Age of Reform was an American Book Award nominee. He is coauthor of The Western Heritage, a widely used textbook."
Advertisement