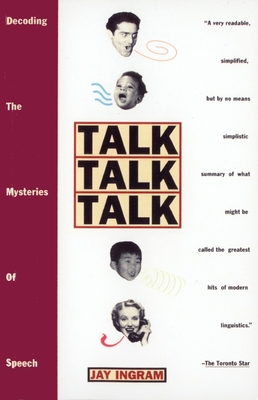 Talk, Talk, Talk: Decoding the Mysteries of Speech (Paperback)
Decoding the Mysteries of Speech
Anchor Books, 9780385473835, 336pp.
Publication Date: August 1, 1994
Description
With a mixture of erudition and humor, Canadian radio personality Jay Ingram discusses the sociology of talking: the dynamics of conversation, men and women's different propensities for interrupting, and even the proper use of "you know." But he also delves into the mystery-riddled physiology of talking. While we now know that certain areas of the brain seem to control specific aspects of speech--from articulating words to creating meaningful sentences--how do scientists explain the extraordinary case of the young stroke victim who lost only the words for fruits and vegetables? Is it possible that the ability to talk is actually encoded in our genes, as some scientists believe? From the language roots of North America to the speech differences between Neanderthals and Cro-Magnons, from modern children creating whole new languages in one generation to Freudian slips, from talking to yourself to speaking in tongues, Talk, Talk, Talk covers the gamut of humankind's most enigmatic and intriguing skill. Impeccably researched, lively, and accessible, Talk, Talk, Talk is a book you won't be able to keep quiet about.
About the Author
Jay Ingram was host of Discovery Channel Canada's Daily Planet from 1995 to 2011. When it premiered in 1995, it was the only hour-long, prime-time daily science show in the world. Prior to joining Discovery, Jay hosted CBC Radio's national science show, Quirks and Quarks, from 1979 to 1992. He was contributing editor to Owl magazine, and also wrote a weekly science column in the Toronto Star. Jay has also written 11 bestselling books, including The Daily Planet Book of Cool Ideas and Talk, Talk, Talk. In 2009, Ingram was made a member of the Order of Canada for his contributions toward making complex science accessible to the public--and for his leadership of future generations of science journalists. He has received the Sandford Fleming Medal from the Royal Canadian Institute for his efforts to popularize science, the Royal Society's McNeil Medal for the Public Awareness of Science, and the Michael Smith Award from the Natural Sciences and Engineering Research Council. He is a distinguished alumnus of the University of Alberta and has received five honorary doctorates.
Advertisement