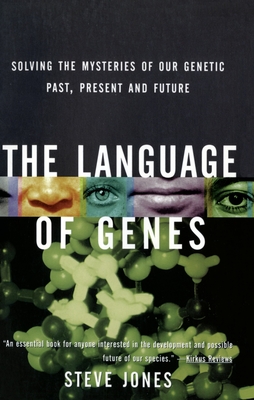 The Language of Genes: Solving the Mysteries of Our Genetic Past, Present and Future (Paperback)
Solving the Mysteries of Our Genetic Past, Present and Future
Anchor Books, 9780385474283, 272pp.
Publication Date: June 1, 1995
* Individual store prices may vary.
or
Not Currently Available for Direct Purchase
Description
Did you know that two of every three people reading this book will die for reasons connected with the genes they carry? That our DNA gradually changes with age, which is why older parents are more likely to give birth to children with genetic defects than younger parents? That each individual is a kind of living fossil, carrying within a genetic record that goes back to the beginnings of humanity? In The Language of Genes, renowned geneticist Steve Jones explores the meanings and explodes the myths of human genetics, offering up an extraordinary picture of what we are, what we were, and what we may become. "An essential book for anyone interested in the development and possible future of our species."--Kirkus Reviews "This is one of the most insightful books on genetics to date and certainly the most entertaining."--The Wall Street Journal
About the Author
Steve Jones is a great popularizer of the fields of genetics and biology, and in 1996 wrote and presented a hugely successful BBC TV series called In the Blood. His previous books include The Language of the Genes (which won the prestigious Rhone-Poulenc Science Book Prize) and In the Blood (shortlisted for the same prize). In 1997 he won the Royal Society Faraday Medal for the Public Understanding of Science. The British edition of Darwin's Ghost, titled Almost Like a Whale, won the 1999 BP Natural World Book Prize.
Advertisement