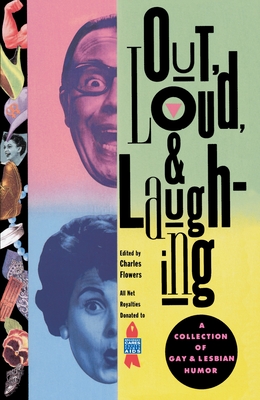 Out, Loud, & Laughing
A Collection of Gay & Lesbian Humor
Paperback

* Individual store prices may vary.
Description
Gays in the military.  Lesbian parents taking their kids to school.  Gay and lesbian couples getting married.  Everywhere you turn gay and lesbian Americans are in the news and more often than not, at the center of some controversy, some debate about tolerance and civil rights, where anger and hatred rule the day.  What's amazing is how gays and lesbians continue to survive without losing their self-respect, their courage, or most surprisingly, their sense of humor. Out, Loud, & Laughing features fifteen of today's funniest gay and lesbian humorists, from stand up comics like Kate Clinton and Frank Maya, to the performance work of the Pomo Afro Homos (Postmodern African-American Homosexuals) and Marga Gomez, to the queer Addison and Steele of the 1990s, Frank DeCaro and David Sedaris. In many ways, gay and lesbian humor is no different from heterosexual comedy, but the material does raise a few eyebrows: the insufferable Jesse Helms, the military ban ("be all you can be ...but in private"), living up to the Lesbian Chic, the trauma of gay male dating rituals, body piercing ("sometimes a fashion statement is a cry for help"), coming out to parents ("Mom, would you please pass the potatoes to a homosexual"), and so much more. By rejecting stereotypes and playing with differences, gay and lesbian humor not only entertains, but educates by disarming ignorancc and fear and the homophobia they engender.  To that end, a portion of all proceeds from this book will be donated to Broadway Cares/Equity Fights AIDS, the organization that, among other projects, initiated and promoted the "red ribbon" campaign for AIDS awareness. Hilarious and socially minded, Out, Loud, & Laughing will leave you laughing out loud and wanting more.
Anchor, 9780385476188, 224pp.
Publication Date: March 1, 1995