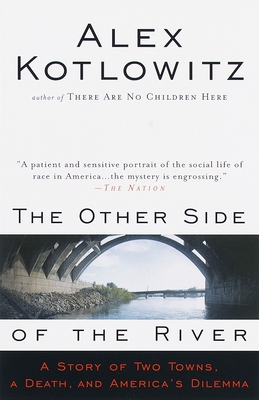 The Other Side of the River
A Story of Two Towns, a Death, and America's Dilemma
Paperback

* Individual store prices may vary.
Description
Bestselling author Alex Kotlowitz is one of this country's foremost writers on the ever explosive issue of race. In this gripping and ultimately profound book, Kotlowitz takes us to two towns in southern Michigan, St. Joseph and Benton Harbor, separated by the St. Joseph River. Geographically close, but worlds apart, they are a living metaphor for America's racial divisions: St. Joseph is a prosperous lakeshore community and ninety-five percent white, while Benton Harbor is impoverished and ninety-two percent black. When the body of a black teenaged boy from Benton Harbor is found in the river, unhealed wounds and suspicions between the two towns' populations surface as well. The investigation into the young man's death becomes, inevitably, a screen on which each town projects their resentments and fears. The Other Side of the River sensitively portrays the lives and hopes of the towns' citizens as they wrestle with this mystery--and reveals the attitudes and misperceptions that undermine race relations throughout America.
Praise For The Other Side of the River: A Story of Two Towns, a Death, and America's Dilemma…
"I was impressed and enthralled...This book has suspense and style, and the delight of real substance presented with grace...a work of great narrative power, superb reporting, and profound empathy--in other words, a joy." --Scott Turow

"A riveting portrait of a racially troubled America in the 1990's." --Publishers Weekly (starred)

"A vivid American microcosm, a telling tableau of the way we are." --The New York Times

Anchor, 9780385477215, 336pp.
Publication Date: January 19, 1999
About the Author
ALEX KOTLOWITZ is perhaps best known for his national bestseller, There Are No Children Here: The Story of Two Boys Growing Up in the Other America, which the New York Public Library selected as one of the 150 most important books of the twentieth century. Alex's nonfiction stories, which one critic wrote "inform the heart", have appeared in print, radio and film. A former staff writer at The Wall Street Journal, Alex has long been a regular contributor to The New York Times Magazine and public radio's This American Life. His stories, which one reviewer wrote "inform the heart", have also appeared in The New Yorker, Granta, Rolling Stone, The Chicago Tribune, Slate and The Washington Post, as well as on PBS (Frontline, the MacNeil-Lehrer NewsHour and Media Matters) and on NPR's All Things Considered and Morning Edition. He's been honored with some of journalism's major prizes: a George Foster Peabody Award, the Robert F. Kennedy Journalism Award, the George Polk Award and twice a Columbia duPont Award.