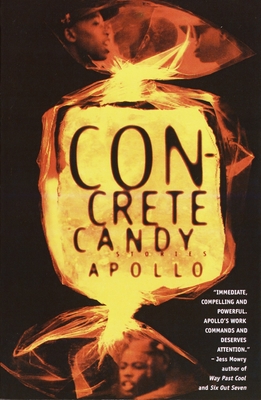 Concrete Candy (Paperback)
Stories
Anchor, 9780385477802, 144pp.
Publication Date: March 1, 1996
* Individual store prices may vary.
Description
Six incendiary stories that reflect the rage and frustration -- and the determination to survive -- of America's disenfranchised inner-city youth

Concrete Candy marks the debut of an astonishing new writer -- notable both for the authenticity and immediacy of his voice and for his age: fifteen. Three years ago, Apollo, a child of the inner city and a protege of the acclaimed novelist Jess Mowry, began writing stories that reflect the tension, drama, and pathos of the urban reality he has lived and witnessed. The result is this collection of six powerful, haunting tales of boys dangerously adrift in the 'hood.
Praise For Concrete Candy: Stories…
"Apollo is a vibrant new writer whose righteous tales of urban youth grip us with their honesty and power. Concrete Candy should be read by everyone concerned with understanding the struggles and humanity of young men in our inner cities."

-- Robert L. Allen, Ph.D., senior editor, The Black Scholar, and coeditor of Brotherman: The Odyssey Of Black Men In America

"Despite the international fascination with hip-hop culture, few have written about it from the inside. Not only has fifteen-year-old Apollo given us the goods, he has produced some first-rate prose as well. By the time he's twenty he'll put us all out of business."

-- Ishmael Reed

"Apollo's characters are heir to a kind of cynicism only the ghetto can breed. Concrete Candy is an often startling view inside the mind of a talented fifteen-year-old writer grappling with questions of race, identity, and social justice in his young world, a world all too soon scarred by American nihilism." -- Cheo Tyehimba, coauthor of The Ghetto Solution