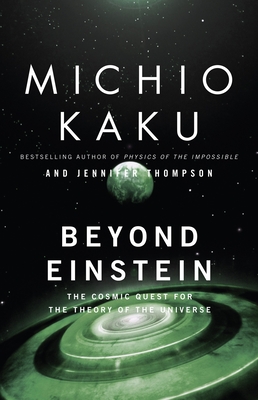 Beyond Einstein (Paperback)
The Cosmic Quest for the Theory of the Universe
Anchor, 9780385477819, 240pp.
Publication Date: September 1, 1995
* Individual store prices may vary.
Description
Beyond Einstein takes readers on an exciting excursion into the discoveries that have led scientists to the brightest new prospect in theoretical physics today -- superstring theory. What is superstring theory and why is it important? This revolutionary breakthrough may well be the
fulfillment of  Albert Einstein's lifelong dream of a Theory of Everything, uniting the laws of physics into a single description explaining all the known forces in the universe. Co-authored by one of the leading pioneers in superstrings, Michio Kaku, the book approaches scientific questions with the excitement of a detective story, offering a fascinating look at the new science that may make the impossible possible.
About the Author
Michio Kaku is a professor of physics at the City University of New York, cofounder of string field theory, and the author of several widely acclaimed science books, including Hyperspace, Beyond Einstein, Physics of the Impossible, and Physics of the Future. He is the science correspondent for CBS's This Morning and host of the radio programs Science Fantastic and Explorations in Science.

Jennifer Trainer Thompson is a writer and the coeditor with Michio Kaku of Nuclear Power: Both Sides, which The Christian Science Monitor selected as one of the best books of 1982. Her other books include Hot Licks: Great Recipes for Making and Cooking with Hot Sauces, The Yachting Cookbook (coauthored with Elizabeth Wheeler), Trail of Flame, Jump Up and Kiss Me, and The Great Hot Sauce Book. Her articles on science, culture, travel, and foo have appeared in many publications, including The New York Times, Travel & Leisure, and Omni.