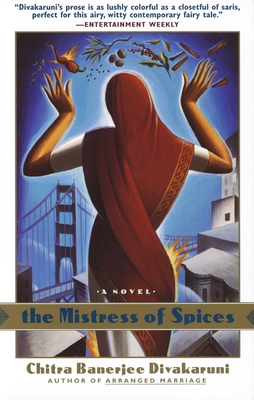 The Mistress of Spices (Paperback)
Anchor Books, 9780385482387, 352pp.
Publication Date: February 17, 1998
Description
A classic work of magical realism, this bestselling novel by Chitra Banerjee Divakarunitells the story of Tilo, a young womanfrom another timewho has a gift for the mysticalart of spices.
Now immortal, and living in the gnarled and arthritic body of an old woman, she's set up shop inOakland, California, where she administers curatives to her customers.But when she's surprised by an unexpected romancewith ahandsome stranger, she mustchoose between everlasting life and the vicissitudes of modern society.Spellbinding and hypnotizing, The Mistress of Spices is a tale of joy, sorrow, and one special woman's magical powers.
About the Author
Chitra Banerjee Divakaruni is the author of thenovels Queen of Dreams, The Mistress of Spices, Sister of My Heart, Before We Visit the Goddess, One Amazing Thing, Oleander Girl, and The Vine of Desire, and of the prizewinning story collections Arranged Marriage and The Unknown Errors of Our Lives. She lives in Houston, Texas, and teaches creative writing at the University of Houston."
Praise For The Mistress of Spices…
"An unusual, clever, and often exquisite first novel...The result is rather as if Isabel Allende met Laura Esquivel."
--Los Angeles Times

"Divakaruni's prose is so pungent that it stains the page, yet beneath the sighs and smells of this brand of magic realism she deftly introduces her true theme: how an ability to accommodate desire enlivens not only the individual heart but a society cornered by change."
--The New Yorker

"The Mistress of Spices is a dazzling tale of misbegotten dreams and desires, hopes and expectations, woven with poetry and storyteller magic."
--Amy Tan

"A splendid novel, beautifully conceived and crafted."
--Pat Conroy
Advertisement