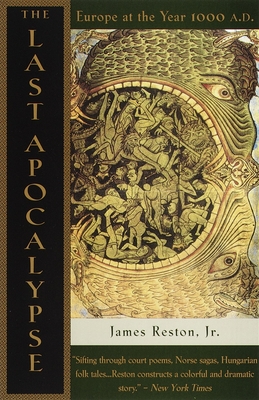 The Last Apocalypse (Paperback)
Europe at the Year 1000 A.D.
Anchor, 9780385483360, 336pp.
Publication Date: February 16, 1999
* Individual store prices may vary.
Description
Accomplished historical author James Reston, Jr., presents the enthralling saga of how the Christian kingdoms converted, conquered, and slaughtered their way to dominance in Europe as the year 1000 approached.
 
Through Reston's brilliant narrative and engaging portraits of the unforgettable historical characters who embodied the struggle for the soul of Europe, students are introduced to a pivotal period in history during which an old order was crumbling, and terrifying, confusing new ideas were gaining hold in the populace. From the righteous fury of the Viking queen Sigrid the Strong-Minded, who burned unwanted suitors alive; to the brilliant but too-cunning Moor, al-Mansur the Illustrious Victor; to the aptly named English king Ethelred the Unready; to the abiding genius of the age, Pope Sylvester II—warrior kings and concubine empresses, maniacal warriors and religious zealots bring this stirring period to life.
About the Author
James Reston, Jr., is the author of thirteen books, including Warriors of God, The Last Apocalypse, and Galileo: A Life. He has written articles for The New Yorker, Esquire, Vanity Fair, Time, Rolling Stone, and many other publications; three plays; and the scripts for three Frontline documentaries. He lives with his family in the suburbs of Washington, DC.