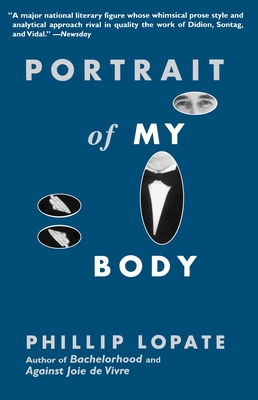 Portrait of My Body (Paperback)
Anchor Books, 9780385483773, 336pp.
Publication Date: September 15, 1997
Description
Phillip Lopate's richest and most ambitious book yet--the final volume of a trilogy that began with Bachelorhood and Against Joie de Vivre--Portrait of My Body is a powerful memoir in the form of interconnected personal essays. One of America's foremost essayists, who helped focus attention on the form in his acclaimed anthology The Art of the Personal Essay, Lopate demonstrates here just how far a writer can go in the direction of honesty and risk taking.
In thirteen essays, Lopate explores the resources and limits of the self, its many disguises, excuses, and unmaskings, with his characteristic wry humor and insight. From the title essay, a hilarious physical self-exam, to the haunting portrait of his ex-colleague Donald Barthelme, to the bittersweet account of his long-delayed surrender to marriage, "On Leaving Bachelorhood," Lopate wrestles with finding the proper balance between detachment and empathy, doubt and conviction. In other essays, he celebrates his love of film and city life, and reflects on his religious identity as a Jew. A wrenchingly vivid, unforgettable portrait of the author's eccentric, solipsistic, aged father, a self-proclaimed failure, is the centerpiece of a suite of essays about father-figures and resisted mentors. The book ends with the author's own introduction to fatherhood, as witness to the birth of his daughter.
A book that will engage readers with its conversational eloquence, skeptical intelligence, candor, and mischief, Portrait of My Body is a captivating work of literary nonfiction.
About the Author
Phillip Lopate is the author of the essay collections Against Joie de Vivre, Bachelorhood, and Portrait of My Body. He has also written the novels The Rug Merchant and Confessions of a Summer. Lopate is the editor of The Art of the Personal Essay and the Library of America's Writing New York, as well as the series editor of The Art of the Essay. His film criticism appears regularly in The New York Times and other publications. He lives in Brooklyn, New York.
Praise For Portrait of My Body…
"So immensely pleasurable to read--like time spent with a wonderfully intelligent and learned, witty, observant and very open friend. Sometimes you want to argue, but more often to say, 'Oh, right.' I was alternately moved and amused, entertained and enlightened."--Alice Adams

Critical Acclaim for Phillip Lopate:

"Lopate more than fulfills his authorial obligation to be engaging as well as honest. His is the work of a fascinatingly complex individual, clearheaded and intermittently cantankerous, calmly articulate, hungry for truth, and above all, appealingly forthright."--Philadelphia Inquirer

"Lopate has the true essayist's gift of living on the page ."--The New York Times
Advertisement