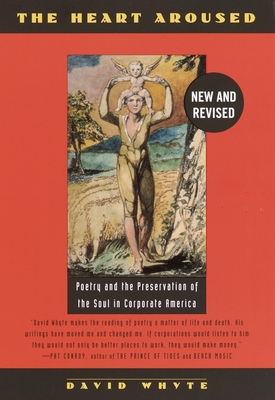 The Heart Aroused
Poetry and the Preservation of the Soul in Corporate America
Paperback

* Individual store prices may vary.
Description
In the middle of the road of my life I awoke in a dark wood where the true way was wholly lost
-DANTE

Like Dante, many of today's corporate workers find themselves lost in the day-to-day duties of their jobs. Our lives seem shaken by the events of September 11 and the seemingly endless examples of corporate scandal, it's become more difficult than ever to find meaning in the workplace.

Has your work lost its meaning? Are you afraid of pursuing your dreams for fear of failing or--worse--getting fired? Do you yearn to find creativity, and even joy, in your job?

In The Heart Aroused, David Whyte brings his unique perspective as poet and consultant to the workplace, showing readers how fulfilling work can be when they face their fears and follow their dreams. Going beneath the surface concerns about products and profits, organization and order, Whyte addresses the needs of the heart and soul, and the fears and desires that many workers keep hidden.

Through the poetry of both classic and modern masters, Whyte helps readers find both professional and personal fulfillment. In Beowulf, Whyte uncovers the key to confronting office conflicts. Like the poem's courageous hero, readers will travel to the belly of the beast of a problem and emerge triumphantly with a solution. The poems of Pablo Neruda help on find inner silence even in the busiest, most confining office space. With T.S. Eliot as a guide, Whyte teaches readers to appreciate the need to open themselves up to possible failure--and as a result, probable success.

At a time when corporations are calling on employees for more creativity, dedication, and adaptability, and workers are trying desperately to balance home and work, this revised edition of The Heart Aroused is the essential guide to reinvigorating the soul.
Praise For The Heart Aroused: Poetry and the Preservation of the Soul in Corporate America…
"The Heart Aroused is truly extraordinary. It brings a poet's ever-deepening imagination to the world of business and work. It steadies us, gives us grounding, and offers profound images for locating our work deep in the soul. The very style of the book presents a new dimension of language and reflection, with a contemplative tempo, that could help us radically and fruitfully reimagine the workplace."
-Thomas Moore, author of Care of the Soul and Soul Mates

"David Whyte's images resonate to the core. As a poet who has taken his work into the corporate world, he pioneers a vision that is at once practical and illuminating."
-Marion Woodman, Jungian analyst and author of Leaving My Father's House

"With this insightful book, David Whyte offers people in corporate life an opportunity to reach into the forgotten and ignored creative life… and literally water their souls with it. The result is a… book that can truly heal."
-Clarissa Pinkola Estés, Ph.D., author of Women Who Run with the Wolves
Currency, 9780385484183, 368pp.
Publication Date: June 1, 1996
About the Author
DAVID WHYTE grew up among the hills and valleys of Yorkshire, England. He is one of the few poets to take his perspectives on creativity into the field of corporate development, educating workers of many American and international companies about how to foster qualities of courage and engagement in their careers. In addition to four volumes of poetry, he has published an audiocassette lecture series and an album of poetry and music. His latest book is Crossing the Unknown Sea: Work as Pilgrimage of Identity. He lives with his family in the Pacific Northwest.