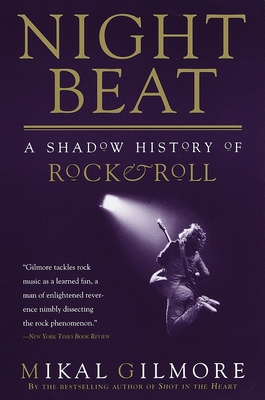 Night Beat: A Shadow of Rock & Roll (Paperback)
A Shadow of Rock & Roll
Knopf Publishing Group, 9780385484367, 496pp.
Publication Date: February 1, 1999
Description
Few journalists have staked a territory as definitively and passionately as Mikal Gilmore in his twenty-year career writing about rock and roll. Now, for the first time, this collection gathers his cultural criticism, interviews, reviews, and assorted musings. Beginning with Elvis and the birth of rock and roll, Gilmore traces the seismic changes in America as its youth responded to the postwar economic and political climate. He hears in the lyrics of Bob Dylan and Jim Morrison the voices of unrest and fervor, and charts the rise and fall of punk in brilliant essays on Lou Reed, The Sex Pistols, and The Clash. Mikal Gilmore describes Bruce Springsteen's America and the problem of Michael Jackson. And like no one else, Gilmore listens to the lone voices: Al Green, Marianne Faithfull, Sinead O'Connor, Frank Sinatra.
Four decades of American life are observed through the inimitable lens of rock and roll, and through the provocative and intelligent voice of one of the most committed chroniclers of American music, and its powerful expressions of love, soul, politics, and redemption.
About the Author
Mikal Gilmore has covered and criticized rock & roll, its culture, and related issues for many national publications.He was music editor for the L.A. Weekly and the Los Angeles Herald Examiner, and for twenty years has worked on the staff of Rolling Stone, where he has profiled many national figures.His first book, Shot in the Heart, won the Los Angeles Times Book Prize and the National Book Critics Circle Award.He lives and works in Los Angeles, California. From the Hardcover edition."
Praise For Night Beat: A Shadow of Rock & Roll…
Praise for Night Beat:

"There is such an openness and generosity of spirit in Mikal Gilmore's sensibility that the only question is whether his writing can live up to it.  It seems to do so effortlessly."
--Greil Marcus, author of Invisible Republic: Bob Dylan's Basement Tapes

"More than a collection of essays, this book is a literary box-set from one of our finest voices.  Music means more because Mikal Gilmore has written about it."
--Cameron Crowe

"Mikal Gilmore understands the soul of rock & roll artists.  He's as good as it gets."
--Danny Goldberg, President and CEO, Mercury Records

"Quite simply, Night Beat contains some of the most revelatory writing about popular music that's ever been done."
--Michael Azerrad, author of Come As You Are: The Story of Nirvana

Praise for Shot in the Heart:

"The making of art is supposed to be cathartic, but often the catharsis does more for the audience than for the creator.  Shot in the Heart is a gesture of sustained courage that just happens to be a page turner."  
--Daphne Merkin, The New Yorker

"Shot in the Heart is a most extraordinary and original book, and both the story and the storyteller utterly transcend the genre into a league of their own."  
--Bob Shacochis, author of Easy in the Islands
Advertisement