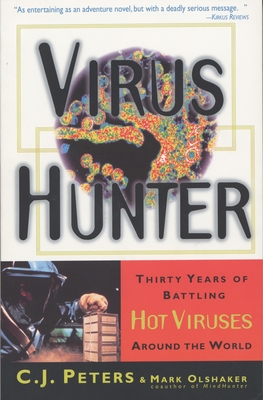 Virus Hunter (Paperback)
Thirty Years of Battling Hot Viruses Around the World
Anchor, 9780385485586, 352pp.
Publication Date: April 13, 1998
* Individual store prices may vary.
Description
A New York Times Notable Book
 
The man who led the battle against Ebola in The Hot Zone teams up with the bestselling co-author of Mind Hunter to chronicle his extraordinary thirty-year career fighting deadly viruses. 

For three decades, Dr. C. J. Peters was on the front lines of our biological battle against "hot" viruses around the world. In the course of that career, he learned countless lessons about our interspecies turf wars with infectious agents. Called in to contain an outbreak of deadly hemorrhagic fever in Bolivia, he confronted the despair of trying to save a colleague who accidentally infected himself with an errant scalpel. Working in Level 4 labs on the Machupo and Ebola viruses, he saw time and again why expensive high-tech biohazard containment equipment is only as safe as the people who use it.
 
Because of new, emerging viruses, and the return of old, "vanquished" ones for which vaccines do not exist, there remains a very real danger of a new epidemic that could, without proper surveillance and early intervention, spread worldwide virtually overnight. And the possibility of foreign countries or terrorist groups using deadly airborne viruses—the poor man's nuclear arsenal—looms larger than ever.
 
High-octane science writing at its best and most revealing, Virus Hunter is a thrilling first-person account of what it is like to be a warrior in the Hot Zone.
About the Author
C. J. Peters is an international expert and consultant on emerging diseases. He has worked in the field of infectious diseases for more than three decades, having served as the chief of special pathogens at the Center for Disease Control and as chief of the Disease Assessment Division at U.S. Army Medical Research Institute of Infectious Diseases. Peters was the head of the unit that contained the outbreak of Ebola at Reston, Virginia, and was instrumental in establishing the Galveston National Laboratory at the University of Texas Medical Branch (UTMB), a Bio-safety Level 4 lab. In 2000 he was named the John Sealy Distinguished University Chair in Tropical and Emerging Virology at UTMB. He lives on Galveston with his wife.
Praise For Virus Hunter: Thirty Years of Battling Hot Viruses Around the World…
"Virus Hunter is a terrific book, at the top of my list. The adventure of a lifetime, it's the inside story of the hunt for threatening and emerging viruses, told with grace and clarity by a working scientist at the hot center of his field." —Richard Preston, author of The Hot Zone

"As entertaining as an adventure novel, but with a deadly serious message." —Kirkus Reviews 

"Peters has enjoyed an impressive career studying and combating deadly viruses around the world, from various South American hemorrhagic viruses to the Ebola virus. . . . [His] biography is fascinating." —Publishers Weekly