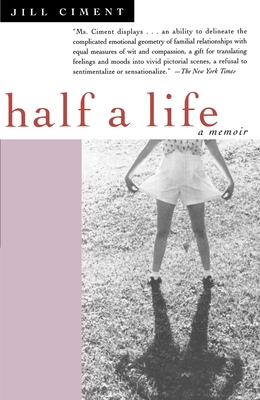 Half a Life (Paperback)
Anchor, 9780385488914, 220pp.
Publication Date: August 18, 1997
* Individual store prices may vary.
Description
Unflinchingly honest, moving, and funny, Half a Life shows how a girl without means or promise and with only a loving mother, chutzpah, a bit of fraud, and a lot of luck turned into somebody. In 1964 the Ciment family left middle-class Montreal for the fringe desert communities of Los Angeles, where their always unstable father lost the last vestiges of his sanity. Terrified and broke, in a world he could neither understand nor control, he came apart. When the family finally threw him out, he lived for weeks in his car at the foot of their driveway.

Ciment turned herself into a girl for whom a father is unnecessary-a tough girl who survived any way she could. She and her brother Jack helped support the family by working for a shady market researcher, quickly learning to supply their own answers to burning questions like, "Did we like Swanson TV dinners? If so, why? On a scale of one to ten, how would we rate the new Talking Barbie? Arrow wax? Dr. Ross's dog food?" She became a gang girl, a professional forger, and a Times Square porn model. Using a friend's SAT score she cheated her way into art school, and seduced and eventually married her art teacher, a married man thirty years her senior.

By turns comic, tragic, and heartrending, Half a Life is a bold, unsentimental portrait of the artist as a girl from nowhere, making herself up from scratch, acting up, and finally overcoming the consequences of being the child of a father incapable of love and responsibility.
About the Author
Jill Ciment is the author of  Small Claims  and  The Law of Falling Bodies , which The New York Times called "a radiant first novel...keenly observed and beautifully written."  She has received grants from the National Endowment for the Arts and the New York State Foundation for the Arts.  She teaches creative writing at Columbia University and Rutgers University and lives in New York City.