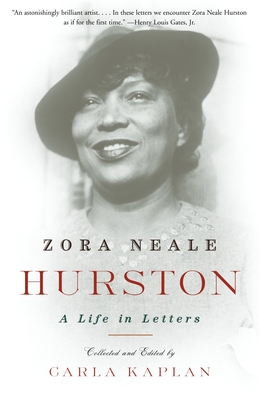 Zora Neale Hurston
A Life in Letters
Paperback

* Individual store prices may vary.
Description
" I mean to live and die by my own mind," Zora Neale Hurston told the writer Countee Cullen. Arriving in Harlem in 1925 with little more than a dollar to her name, Hurston rose to become one of the central figures of the Harlem Renaissance, only to die in obscurity. Not until the 1970s was she rediscovered by Alice Walker and other admirers. Although Hurston has entered the pantheon as one of the most influential American writers of the 20th century, the true nature of her personality has proven elusive.

Now, a brilliant, complicated and utterly arresting woman emerges from this landmark book. Carla Kaplan, a noted Hurston scholar, has found hundreds of revealing, previously unpublished letters for this definitive collection; she also provides extensive and illuminating commentary on Hurston's life and work, as well as an annotated glossary of the organizations and personalities that were important to it.

From her enrollment at Baltimore's Morgan Academy in 1917, to correspondence with Marjorie Kinnan Rawlings, Langston Hughes, Dorothy West and Alain Locke, to a final query letter to her publishers in 1959, Hurston's spirited correspondence offers an invaluable portrait of a remarkable, irrepressible talent.
Praise For Zora Neale Hurston: A Life in Letters…
"An astonishingly brilliant artist . . . In these letters we encounter Zora Neale Hurston as if for the first time." --Henry Louis Gates, Jr.

"Smart, sparkling lettters . . . a fascinating collection" --O, The Oprah Magazine

"Kaplan has made the letters remarkably accessible" --The New York Times

"Not merely a collection of letters but a comprehensive introduction to an important American writer" --Booklist

"Captures the myriad facets of Hurston's genius, not least as it radiated in the legendary life she crafted from humble beginnings." --The Washington Post

"This is a wonderful addition to what we need to understand about a spirited, extraordinary life." –Alice Walker

"[Hurston's] letters have a freshness, humor and immediacy that make you forget how long ago they were written" –Quarterly Black Review

"The letters in Ms. Kaplan's collection tell a life story of exceptional interest." –The Wall Street Journal

"Hurston's reputation–and her place in the canon of truly great writers–only deepens as we encounter the complex and compelling intelligence of this astonishingly brilliant artist. In these letters, we encounter Zora Neale Hurston as if for the first time." –Henry Louis Gates, Jr., W.E.B. Du Bois Professor of the Humanities, Harvard University

" [An] epic collection . . . .The arrival of these letters is like a beacon cast on Hurston's life." –Orlando Sentinel

"From her letters emerges an . . . articulate but qualitatively different voice, or better yet, chorus of voices, compounding the contradictions of an undeniably courageous life. We can finally see her . . . served up raw." –Africana.com

"Hurston's letters reveal an energetic writer . . . . Beautifully executed." –Publishers Weekly

"Sublime and intimate. . . . An intriguing installment in the study of Hurston's work and life." –Upscale

"The Hurston we revered before this book was only an illusion. Zora Neale Hurston: A Life in Letters gives us a flesh and blood Hurston with sharp edges and dark corners and endless, enchanting layers." –Emily Bernard, author of Remember Me to Harlem: The Letters of Langston Hughes and Carl Van Vechten, 1925-1964


Anchor, 9780385490368, 912pp.
Publication Date: December 2, 2003
About the Author
Carla Kaplan is Professor of English, Gender Studies, and American & Ethnic Studies at the University of Southern California, and a noted Hurston scholar. She is the author of The Erotics of Talk: Women's Writing and Feminist Paradigms, and the editor of Dark Symphony and Other Works, by Elizabeth Laura Adams, Every Tongue Got to Confess: Negro Folk-Tales from the Gulf States, by Zora Neale Hurston, and Nella Larsen's Passing.
or
Not Currently Available for Direct Purchase