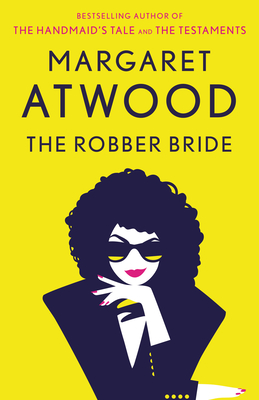 The Robber Bride
Paperback

* Individual store prices may vary.
Other Editions of This Title:
Digital Audiobook (8/1/2011)
Paperback, Chinese (8/1/2014)
Hardcover (10/1/1993)
Mass Market Paperback (2/1/1995)
Description
From the #1 New York Times bestselling author of The Handmaid's Tale

One of Margaret Atwood's most unforgettable characters lurks at the center of this intricate novel like a spider in a web. The glamorous, irresistible, unscrupulous Zenia is nothing less than a fairy-tale villain in the memories of her former friends. Roz, Charis, and Tony—university classmates decades ago—were reunited at Zenia's funeral and have met monthly for lunch ever since, obsessively retracing the destructive swath she once cut through their lives. A brilliantly inventive fabulist, Zenia had a talent for exploiting her friends' weaknesses, wielding intimacy as a weapon and cheating them of money, time, sympathy, and men. But one day, five years after her funeral, they are shocked to catch sight of Zenia: even her death appears to have been yet another fiction. As the three women plot to confront their larger-than-life nemesis, Atwood proves herself a gleefully acute observer of the treacherous shoals of friendship, trust, desire, and power.
Praise For The Robber Bride…
"Funny, thoughtful, moving. . . . Atwood's plotting is masterful, and her humor is razor-edged, sexy, and raucous." —The Washington Post

"Vividly written, acutely observed and . . . very possibly the most intelligently tongue-in-cheek novel of the year." —Salman Rushdie, The Independent

"Moving amid these three women, touching up their portraits with one perfect detail after another, conjuring Zenia from their memories and tears, Atwood is in her glory. What a treasure she is." —Newsweek

"Margaret Atwood continues her long-running roll, offering us the good fortune of yet another disturbing and brilliantly conceived work of fiction." —Chicago Tribune 
Anchor, 9780385491037, 528pp.
Publication Date: January 20, 1998
About the Author
Margaret Atwood, whose work has been published in more than forty-five countries, is the author of more than fifty books of fiction, poetry, critical essays, and graphic novels. In addition to The Handmaid's Tale, now an award-winning TV series, her novels include Cat's Eye, short-listed for the 1989 Booker Prize; Alias Grace, which won the Giller Prize in Canada and the Premio Mondello in Italy; The Blind Assassin, winner of the 2000 Booker Prize; Oryx and Crake, short-listed for the 2003 Man Booker Prize; The Year of the Flood, MaddAddam; and Hag-Seed. She is the recipient of numerous awards, including the Peace Prize of the German Book Trade, the Franz Kafka Prize, the PEN Center USA Lifetime Achievement Award, and the Los Angeles Times Innovator's Award. In 2019, she was made a member of the Order of the Companions of Honour for services to literature.
In The Robber Bride Tony says that people like Zenia don't get into your life unless you invite them in. What devices does Zenia use to first gain entry into the lives of Tony, Charis, and Roz? How does she alter her techniques to attract and control men?
Is there one character you identify with more than others? Why?
On the surface, Tony, Charis, and Roz are not a bit alike yet similarities exist. For example, during their childhoods they each developed what could be called "dual" identities. How do the psychological devices they developed as children help or hinder them? In what ways do their own children differ from them?
While seeming all powerful, the constantly changing Zenia lacks a center of her own. Is it possible for women to achieve the same kinds of power that men do in today's society, or do they have to break rules and operate as outlaws? Discuss Charis's grandmother. Do women have a kind of power that is different from male power?
Magic can mean two things: sleight of hand played by stage magicians, and true "magic," or supernatural ability. What role does each kind of "magic" play in the novel, if any?
The name of the restaurant where Zenia reappears is called The Toxique. What role does naming–of persons and places–play in this novel?
War provides a subtext, and even possibly a framework, for this novel. The male characters are not the only ones affected by it. How are the others affected? How is Zenia affected? Which wars are mentioned?
Read the poem "The Robber Bridegroom," reversing gender as you read. What does this poem, taken together with the poem "She," tell us about the nature of evil?
Discuss the poem "The Loneliness of the Military Historian". What does it tell us about differences between the way men and women traditionally deal with violence? Does Atwood make a value judgment?
The American writer Lewis Hyde has asked, "Why is the Trickster the Messenger of the Gods?" Is Zenia a trickster? Is she also a messenger of the gods, and how?
Is there a difference between the lies others tell and Zenia's lies? Are there "good" lies and "bad" lies? Do the hearers play a role in the construction of these lies?
Think of female villains from literature and film. What do they seem to have in common? Is female villainy different from the male variety?
William Blake said of Milton's Paradise Lost that Milton often seemed to be of the devil's part without knowing it. Does Atwood have a sneaking sympathy for Zenia? Do you?