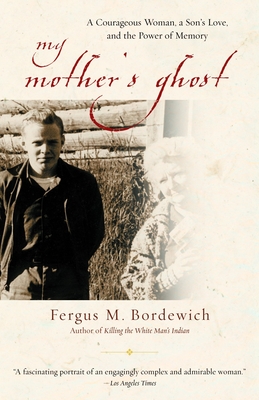 My Mother's Ghost (Paperback)
A Courageous Woman, a Son's Love, and the Power of Memory
Anchor, 9780385491303, 336pp.
Publication Date: February 5, 2002
* Individual store prices may vary.
Description
LaVerne Madigan led an extraordinary life. In an era when few women even worked outside the home, La Verne was the executive director of the only major national rights advocacy group for American Indians at the time. Brilliant, beautiful, stylish, and independent, she worked tirelessly for what she believed in and inspired those who knew her. Perhaps no one as much as her young son, Fergus Bordewich.
One morning when Fergus was fourteen, he and his mother went riding, which they did often. It was the last time he saw her alive. Attempting to jump from her runaway horse, LaVerne fell under the hooves of her son's mount and was killed. Fergus was left with the belief that he was responsible. More than thirty years later and after a lifetime of guilt and self-punishment, the son returned to his mother's life. My Mother's Ghost is the story of a brilliant woman cut down in her prime and of a haunted man who confronted the source of his pain, uncovered startling truths, and reclaimed his own life along with that of his mother.
About the Author
Fergus Bordewich is also the author of Killing the White Man's Indian. He lives in New York's Hudson Valley.
Praise For My Mother's Ghost: A Courageous Woman, a Son's Love, and the Power of Memory…

"Beautifully written…. A fascinating portrait of an engagingly complex and admirable woman."–Los Angeles Times

"Vivid. . . . A moving account of Bordewich's quest to come to terms with his mother's death. . . . A poignant tribute to a remarkable woman." --Bookpage

"A moving account of love, guilt, death, and finally, and exoneration with consequences. An important book." --James Welch, author of Heartsong of Charging Elk

"This is so straightforward, without pretension, so full of quiet intelligence and discernment–compassion too." John Bayley, author of Elegy for Iris