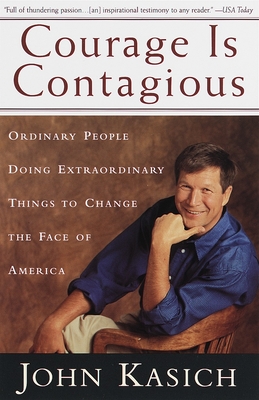 Courage Is Contagious (Paperback)
Ordinary People Doing Extraordinary Things To Change The Face Of America
Main Street Books, 9780385491488, 272pp.
Publication Date: October 19, 1999
* Individual store prices may vary.
Description
A modern-day Profiles in Courage about twenty people who are doing heroic things to improve the lives of their fellow Americans.

Now available in trade paperback, Courage Is Contagious is a remarkable document about everyday people helping to reshape America. Written by Congressman John Kasich, the book profiles twenty men and women from across the country who have, through their own courage, determination, and generous hearts, attempted to improve the lot of their fellow citizens. The values they exhibit, Congressman Kasich argues, are the very values we as a society need to encourage and support if we are to end our nation's divisiveness and fulfill its glorious promise. Among the people Kasich writes about are Cheryl Krueger, who started a successful cookie business that puts people ahead of profits by employing women who often wouldn't be given a chance by other companies; and Dr. Jack McConnell, who, shocked by the poverty outside his neighborhood, organized over one hundred retired doctors, nurses, and dentists to create a free medical clinic that now serves over ten thousand people in the Hilton Head area of South Carolina and has inspired similar volunteer programs nationwide.

A heartfelt and optomistic message in a world grown increasingly distrustful, Courage Is Contagious offers hope and inspiration to all who read it.
About the Author
Now in his ninth term representing central Ohio's Twelfth Congressional District, House Budget Committee Chairman and presidential hopeful John Kasich has become a nationally recognized leader of the Republican Party. Chief negotiator for the House of Representatives as Congress and President Clinton reached agreement on a plan to balance the budget by 2002, he also chaired the House-Senate committee that wrote the final version of the Welfare Reform Law in 1996. Newsweek named him one of its "100 People for the Next Century" in April 1998.
Praise For Courage Is Contagious: Ordinary People Doing Extraordinary Things To Change The Face Of America…
"Full of thundering passion...[an] inspirational testimony to any reader." --USA Today