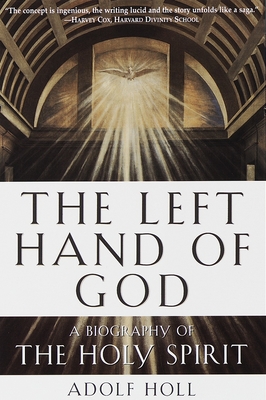 The Left Hand of God: A Biography of the Holy Spirit (Paperback)
A Biography of the Holy Spirit
Image, 9780385492850, 368pp.
Publication Date: December 1, 1999
Description
Adolf Holl's divine biography examines the life of the Holy Spirit in the context of the history of Christianity, Judaism, and Islam.Interweaving scholarship with religion, myth, and culture, Holl expertly traces the influence of the Holy Spirit on men and women from all walks of life, over the course of centuries.The result is quite unlike anything written before.
The Holy Spirit inspired a few Galilean fishermen to find the courage to preach a new world religion.The Jews recognized it as the breath of God.Mohammed was inspired by it in the dictation of the Koran.Yet this same spirit has moved individuals to rebel against convention, authority, and even sanity.Through Holl's freewheeling yet always crystal-clear discourse, we see how the Holy Spirit informs an incredible array of beliefs (including those underlying the rituals of Appalachian snake handlers) and ideas (the works of Freud and James Joyce are among the many discussed).
When the book was published in Germany,
Der Spiegel
wrote, "Holl has presented a formidable history, linking together the most distant things in a surprising way and leaving the whole as a paradox.He leaves it to the reader to judge the encounter with the Holy Spirit as a manifestation of the divine in the human being--or as a case for the psychiatrist."
Whatever the reader's conclusion may be,
The Left Hand of God
is sure to be hailed as a major religious publishing event.
From the Hardcover edition.
About the Author
Adolf Holl lives in Vienna, where he was Chaplain of the University of Vienna and a lecturer in its Department of Catholic Theology. Because of conflicts with Church authorities, he was suspended from his teaching and priestly duties. He is the author of more than twenty books, including Jesus in Bad Company, Death and the Devil, and The Last Christian: A Biography of St. Francis of Assisi. From the Hardcover edition.
Praise For The Left Hand of God: A Biography of the Holy Spirit…
"For years the Third Person of the Christian Trinity has either been neglected or just demoted to second-class status.  This book almost makes up for all that....The book may annoy some people but it will inform and (may I say it) entertain more."
--Harvey Cox, Thomas Professor of Divinity, Harvard University and author of Fire from Heaven: The Rise of Pentecostal Spirituality and the Reshaping of Religion in the Twenty-First Century

"At this first time in history when all world religions can talk and meet, it is so important to see the work of the Holy Spirit in a broader and non-denominational way.  Adolf Holl has created a masterpiece of scholarship, history, readability, and a vocabulary for holiness."
--Rev.  Richard Rohr, O.F.M., Center for Action & Contemplation, Albuquerque, New Mexico

"Adolf Holl gifts us with an urbane, sardonic travelogue of the Holy Spirit's manifestations through history.  Writing in a punchy yet lyrical style, the author is no pedantic guide, but rather a raconteur for whom every moment is equidistant, and Joachim of Fiore (d.  1201) rubs shoulders with Hitler and Stalin.  There will be no other book about the Holy Spirit quite like it."
--Walter Wink, Professor of Biblical Interpretation, Auburn Theological Seminary, New York, and author of The Powers That Be

"What a brilliant idea, brilliantly realized! Who or what is this mysterious third member Who (or which) proceeds from the Father and the Son: A dove-like creature? A beam of light? A violent wind? The Word spoken through the prophets? The force that could pull off an immaculate conception? The terror of the Apocalypse? Holl gives us the history, the sociology, the literature, the theology and the politics of the Holy Spirit.  This 'biography' is a fascinating and important book."
--James Reston, Jr., author of The Last Apocalypse

"Behind every religious belief lies breath, ruach, pneuma, animus, pure spirit, the very stuff of the soul--all of it very hard to handle.  But Adolf Holl has done just that.  With The Left Hand of God and a generous, eclectic and evolutionary approach, he has succeeded--perhaps as well as anyone can--in laying the Holy Ghost."
--Lyall Watson, author of Gift of Unknown Things and Dark Nature: A Natural History of Evil
Advertisement