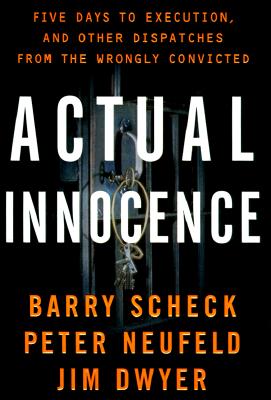 Actual Innocence (Hardcover)
Five Days to Execution, and Other Dispatches from the Wrongly Convicted
Doubleday Books, 9780385493413, 320pp.
Publication Date: February 1, 2000
Other Editions of This Title:
Paperback (12/2/2003)
Audio Cassette, Abridged, Abridged (2/1/2000)
* Individual store prices may vary.
Description
Extraordinarily powerful stories of ordinary people locked up for crimes they did not commit, and how they were freed against great odds.
A nightmare from a thousand B-movies: a horrible crime is committed in your neighborhood, and the police knock at your door. A witness swears you are the perpetrator; you have no alibi, and no one believes your protestations of innocence. You're convicted, sentenced to hard time in maximum security, or even death row, where you await the executioner's needle.
Tragically, this is no movie script but reality for hundreds of American citizens. Our criminal justice system is broken, and people from all walks of life have been destroyed by its failures. But science and a group of incredibly dedicated crusaders are working to repair the damage.
In the last ten years, DNA testing has uncovered stone-cold proof that sixty-five completely innocent people have been sent to prison and death row. But even in cases where there is physical evidence, the criminal justice system frees prisoners only after a torturous legal process. Incredibly, according to many trial judges, "actual innocence" is not grounds for release from prison.
At the Innocence Project, Barry Scheck and Peter Neufeld have helped to free thirty-seven wrongly convicted people, and have taken up the cause of hundreds more. Pulitzer Prize-winning columnist Jim Dwyer has been covering innocence cases for a decade. In Actual Innocence, Scheck, Neufeld, and Dwyer relate the harrowing stories of ten innocent men--convicted by sloppy police work, corrupt prosecutors, jailhouse snitches, mistaken eyewitnesses, and other all-too-common flaws of the trial system--and tell of the heroic efforts to free them.
Intense, startling, and utterly compelling, Actual Innocence is a passionate and fascinating journey through the looking glass of the American criminal justice system.
Tragically, this is no movie script but reality for hundreds of American citizens. Our criminal justice system is broken, and people from all walks of life have been destroyed by its failures. But science and a group of incredibly dedicated lawyers are working to repair the damage.
In the last decade of this century, DNA testing has uncovered stone-cold proof that fifty-five completely innocent people were sent to prison and death row. At the Innocence Project, Barry Scheck and Peter Neufeld have managed to free forty-three wrongly convicted people and have taken up the cause of two hundred more. Pulitzer Prize winning columnist Jim Dwyer covered this courthouse revolution from its very first days. In Actual Innocence, Scheck, Neufeld, and Dwyer relate the harrowing stories of ten of these individuals--convicted by sloppy police work, corrupt prosecutors, jailhouse snitches, mistaken witnesses, inept lawyers, and other all-too-common flaws in the trial system--and tell of the heroic efforts to free them.
Intense, harrowing, and compelling, Actual Innocence is a passionate argument for sanity in our courtrooms and a fascinating journey through the looking glass of the American criminal justice system. -->

or
Not Currently Available for Direct Purchase