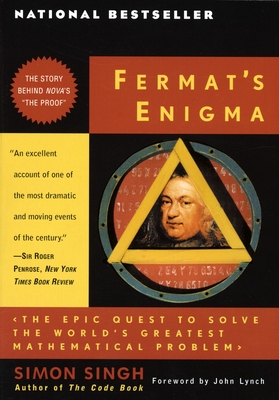 Fermat's Enigma
The Epic Quest to Solve the World's Greatest Mathematical Problem
Paperback

* Individual store prices may vary.
Description
xn + yn = zn, where n represents 3, 4, 5, ...no solution

"I have discovered a truly marvelous demonstration of this proposition which this margin is too narrow to contain."

With these words, the seventeenth-century French mathematician Pierre de Fermat threw down the gauntlet to future generations.  What came to be known as Fermat's Last Theorem looked simple; proving it, however, became the Holy Grail of mathematics, baffling its finest minds for more than 350 years.  In Fermat's Enigma--based on the author's award-winning documentary film, which aired on PBS's "Nova"--Simon Singh tells the astonishingly entertaining story of the pursuit of that grail, and the lives that were devoted to, sacrificed for, and saved by it.  Here is a mesmerizing tale of heartbreak and mastery that will forever change your feelings about mathematics.
Praise For Fermat's Enigma: The Epic Quest to Solve the World's Greatest Mathematical Problem…
"An excellent account of one of the most dramatic and moving events of the century."
--Sir Roger Penrose, New York Times Book Review

"It is hard to imagine a more gripping account of...this centuries-long drama of ingenious failures, crushed hopes, fatal duels, and suicides."
--Jim Holt, The Wall Street Journal

"Though Singh may not ask us to bring too much algebra to the table, he does expect us to appreciate a good detective story."
--Boston Sunday Globe

"The history of mathematics comes alive even for those who dread balancing their checkbooks."
--Publishers Weekly

"Singh captures the joys and frustrations of this quest for an extremely elusive proof...and builds to a truly engrossing climax. It's a mathematical page-turner."
--Library Journal
Anchor, 9780385493628, 336pp.
Publication Date: September 8, 1998
About the Author
Simon Singh received his Ph.D. in physics from the University of Cambridge. A BBC producer, he directed and coproduced an award-winning documentary film on Fermat's Last Theorem that aired on PBS's "Nova" series. He is also the author of the bestselling The Code Book:  The Science of Secrecy from Ancient Egypt to Quantum Cryptography.  He lives in London, England.