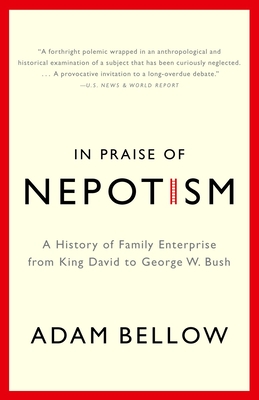 In Praise of Nepotism (Paperback)
A History of Family Enterprise from King David to George W. Bush
Anchor, 9780385493895, 576pp.
Publication Date: July 13, 2004
* Individual store prices may vary.
Description
Nepotism is one of those social habits we all claim to deplore in America; it offends our sense of fair play and our pride in living in a meritocracy. But somehow nepotism prevails; we all want to help our own and a quick glance around reveals any number of successful families whose sons and daughters have gone on to accomplish objectively great things, even if they got a little help from their parents.

In this wide-ranging, surprising, and eloquently argued book, Adam Bellow takes a pragmatic and erudite look at the innate human inclination toward nepotism. From ancient Chinese clans to the papal lineages of the Renaissance, to American families like the Gores, Kennedys, and Bushes, Bellow explores how nepotism has produced both positive and negative effects throughout history. As he argues, nepotism practiced badly or haphazardly is an embarrassment to all (including the incompetent beneficiary), but nepotism practiced well can satisfy a deep biological urge to provide for our children and even benefit society as a whole. In Praise of Nepotism is a judicious look at a controversial but timeless subject that has never been explored with such depth or candor, and a fascinating natural history of how families work.
About the Author
Adam Bellow is the former editorial director of the Free Press and is currently an editor-at-large for Doubleday. His articles and reviews have appeared in Talk, National Review, and The Atlantic Monthly, where a section of this book appeared.
Praise For In Praise of Nepotism: A History of Family Enterprise from King David to George W. Bush…
"Nepotism is widely condemned yet even more widely practiced. Adam Bellow shows why this is so, and he makes a fascinating and well-researched argument that this is not necessarily a bad thing."
-Walter Isaacson, author of Kissinger: A Life and former chairman of CNN and managing editor of Time

"Some features of human nature, like aggression and adultery, get a consistently bad press but remain stubbornly persistent. Nepotism, likewise, is universally condemned but seems just as ineradicable. Adam Bellow explains to us why we are so addicted to what we so deplore, and does so in plain English with convincing scholarship. He brings together biology and history in a way that is intelligible to the general reader and challenging to the discipline-bound professional. Nepotism has never looked so good."
-Robin Fox, professor of anthropology, Rutgers University, and author of Kinship and Marriage and Encounter With Anthropology

"I read In Praise of Nepotism straight through in about a day and a half. It is a most engaging text, exceedingly well written, concise, lucid, with marvelous descriptions and characterizations. It is also the first time I have read such an angle on history. Adam Bellow is almost alone in relating the family to politics, to power and affairs of state. This is the book's originality, and it makes for a fresh contribution to the study of history."
- John Patrick Diggins, Distinguished Professor of History, Graduate Center, The City University of New York

"Nepotism, like sex, is a powerful human motive that many people are too squeamish to examine. Adam Bellow has made an important contribution to our understanding of the human condition with this sparkling and eye-opening natural history of an underappreciated but eternally fascinating topic."
- Steven Pinker, Peter de Florez Professor, MIT, and author of The Blank Slate and How the Mind Works

"Adam Bellow is like the best teacher you ever had. You are awed by his range and erudition, and you are carried along by the page-turning drama he makes of ideas and history.  To see nepotism as a natural human impulse, a force in the advancement of civilization, and an enemy and friend of democracy and free markets was all a revelation.  And Bellow's description of a benevolent and inclusive nepotism is a strikingly original idea that will make this book a landmark."
— Shelby Steele
or
Not Currently Available for Direct Purchase