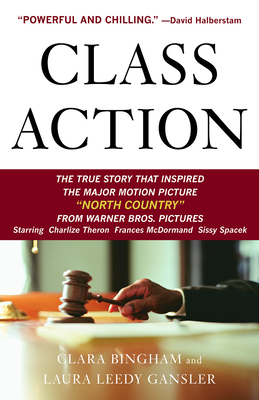 Class Action (Paperback)
The Landmark Case that Changed Sexual Harassment Law
Anchor, 9780385496131, 400pp.
Publication Date: October 14, 2003
Other Editions of This Title:
Digital Audiobook (12/31/2005)
Compact Disc (12/1/2005)
MP3 CD (11/1/2005)
Compact Disc (12/1/2005)
* Individual store prices may vary.
Description
The true story of Lois Jenson, a petite single mother, who was among the first women hired by a northern Minnesota iron mine in 1975. In this brutal workplace, female miners were relentlessly threatened with pornographic graffiti, denigrating language, stalking, and physical assaults. Terrified of losing their jobs, the women kept their problems largely to themselves—until Lois, devastated by the abuse, found the courage to file a complaint against the company in 1984. Despite all of the obstacles the legal system threw at them, Lois and her fellow plaintiffs enlisted the aid of a dedicated team of lawyers and ultimately prevailed. Weaving personal stories with legal drama, Class Action shows how these terrifically brave women made history, although not without enormous personal cost. Told at a thriller's pace, this is the story of how one woman pioneered and won the first sexual harassment class action suit in the United States, a legal milestone that immeasurably improved working conditions for American women.
About the Author
Clara Bingham is a former White House correspondent for Newsweek and wrote Women on the hill: Challenging the Culture of Congress. She has written for Talk, Vogue, Harper's Bazaar, and The Washington Monthly. She is a graduate of Harvard University.

Laura Leedy Gansler is a lawyer specializing in alternative dispute resolution and securities law. She is a former adjunct law professor at American University. After graduating from Harvard University, Gansler received a J.D. from the University of Virginia School of Law in 1989.
Praise For Class Action: The Landmark Case that Changed Sexual Harassment Law…
"Riveting and engrossing. . . . A gripping and unforgettable story." –San Francisco Chronicle

A Los Angeles Times Best Book of the Year

"Tightly written, extensively researched, and well-plotted. . . .With the pacing of a novel, [the authors] engage the reader from the outset. . . . Fascinating." —Los Angeles Times

"Bingham and Gansler have come up with mesmerizing, complex portraits of the participants in a beautifully paced narrative. . . . Impeccable." —The Washington Post

"Powerful. . . top-notch reporting. . . . Class Action is a compelling court saga and an important historical document."—Minneapolis Star Tribune

"Riveting, assiduously well-reported. . . A useful reminder of the emotional and psychological cost of waging even the most successful—and justified—lawsuits." —The New Yorker

"Brilliantly reported, documented, and written. . . . Protagonist Lois Jenson, a worker in a Minnesota mine, is the real Erin Brockovich. Her war is not only that of every woman but of every citizen."–Bob Woodward, author of All the President's Men

"A suspenseful page-turner. . . the reader feels a need to know what happens next." –Newsday

"Tells an important story of how the law can effect change and bring justice into our lives. As women, we are indebted to Lois Jenson for her courage and to Clara Bingham and Laura Leedy Gansler for giving it voice."–Caroline Kennedy, author of In Our Defense: The Bill of Rights in Action

"Anyone who doubts that such a thing as a sexually hostile work environment exists should read . . . Class Action." –Elle

"Harrowing. . . . An enlightening, fast-moving narrative." –BookPage

"Always riveting, often horrific. . . . An unsparing look at the real nature of judicial progress–and the costs of even this most dramatic courtroom victories."–Jeffrey Toobin, author of A Vast Conspiracy

"A suspenseful narrative." –Time

"A complex account of justice sought–and won. . . . Detailed but not dense: a sturdy addition to the literature of social justice and contemporary women's issues." –Kirkus Reviews

"Courageous. . . . Bingham and Gansler's dogged legal anthropology [shows] you don't need bright-line heroism and villainy to bundle together disparate acts of everyday degradation, name them . . . and demand justice." –New York Observer

"Bingham and Gansler's fast-paced account of the sexual harassment suit that forever altered the law is much stranger than fiction." –Marie Claire

"Readable and well-reported. . . . A fascinating piece of history." –The Deseret News