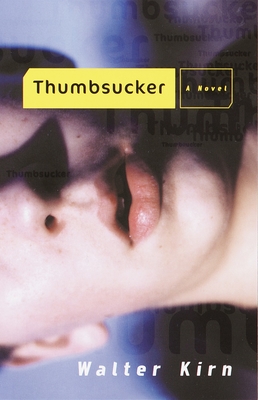 Thumbsucker
A Novel
Paperback

* Individual store prices may vary.
Description
This eighties-centric, Ritalin-fueled, pitch-perfect comic novel by a writer to watch brings energy and originality to the classic Midwestern coming-of-age story.Meet Justin Cobb, "the King Kong of oral obsessives" (as his dentist dubs him) and the most appealingly bright and screwed-up fictional adolescent since Holden Caulfield donned his hunter's cap. For years, no remedy--not orthodontia, not the escalating threats of his father, Mike, a washed-out linebacker turned sporting goods entrepreneur, not the noxious cayenne pepper-based Suk-No-Mor--can cure Justin's thumbsucking habit.Then a course of hypnosis seemingly does the trick, but true to the conservation of neurotic energy, the problem doesn't so much disappear as relocate. Sex, substance abuse, speech team, fly-fishing, honest work, even Mormonism--Justin throws himself into each pursuit with a hyperactive energy that even his daily Ritalin dose does little to blunt.Each time, however, he discovers that there is no escaping the unruly imperatives of his self and the confines of his deeply eccentric family. The only "cure" for the adolescent condition is time and distance.Always funny, sometimes hilariously so, occasionally poignant, and even disturbing, deeply wise on the vexed subject of fathers and sons, Walter Kirn's Thumbsucker is an utterly fresh and all-American take on the painful process of growing up.
Praise For Thumbsucker: A Novel…
"Thumbsucker is funny, scary, sharp, smooth, and (in a provocative sense) clean. If there were more of this kind of thing around, you could get addicted to it." --Roy Blount, Jr.
Anchor, 9780385497091, 320pp.
Publication Date: October 19, 1999
About the Author
Walter Kirn is the regular book reviewer for New York magazine and a contributing editor to Time. He is the author of two previous works of fiction, My Hard Bargain and She Needed Me. A graduate of Princeton University and the University of Oxford, he lives in Livingston, Montana. Portions of Thumbsucker have appeared in Esquire, GQ, and The New Yorker.