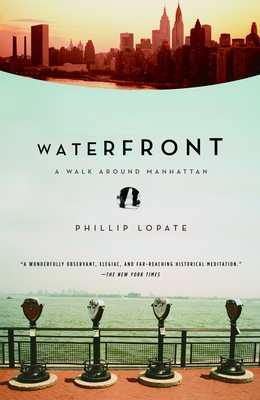 Waterfront: A Walk Around Manhattan (Paperback)
A Walk Around Manhattan
Anchor Books, 9780385497145, 421pp.
Publication Date: May 10, 2005
Description
East Side, West Side, from the Little Red Lighthouse to Battery Park City, the wonders of Manhattan's waterfront are both celebrated and secret-hidden in plain sight. In his brilliant exploration of this defining yet neglected shoreline, personal essayist Philip Lopate also recovers a part of the city's soul.
A native New Yorker, Lopate has embraced Manhattan by walking every inch of its perimeter, telling stories on the way of pirates (Captain Kidd) and power brokers (Robert Moses), the lowly shipworm and Typhoid Mary, public housing in Harlem and the building of the Brooklyn Bridge. He evokes the magic of the once bustling old port from Melville's and Whitman's day to the era of the longshoremen in On the Waterfront, while appraising today's developers and environmental activists, and probing new plans for parks and pleasure domes with river views. Whether escorting us into unfamiliar, hazardous crannies or along a Beaux Arts esplanade, Waterfront is a grand literary ramble and defense of urban life by one of our most perceptive observers.
About the Author
Phillip Lopate is the author of numerous books, including Getting Personal: Selected Writings, the essay collections Bachelorhood, Against Joie de Vivre, Writing New York, and Portrait of My Body, and the novels The Rug Merchant and Confessions of Summer. Most recently, Lopate authored Seaport: New York's Vanished Waterfront, a book of photographs of maritime Manhattan. He is also the editor of The Art of the Personal Essay, and his work has appeared in The Paris Review, Esquire, Vogue, and many other publications. He lives in Brooklyn with his wife and daughter, and teaches at Hofstra University.
Praise For Waterfront: A Walk Around Manhattan…
"A wonderfully observant, elegiac, and far-reaching historical meditation."–The New York Times

"The celebrated essayist takes a tour of the city's ever-changing perimeter, sharing his knowledge of New York's history, mythology, and plans for the future. Poring over his informed, readable prose is like taking a stroll with a favorite professor: he is opinionated, casual, and erudite in equal measure."–Conde-Nast Traveler

"A vivid blend of history, guidebook, white paper, and urban sketch. In Waterfront Lopate has enriched and refined his style by taking it quite literally to the vortex's watery edge, and for anyone wondering about that shoreline, his book will be a lively and trusty compass."–The Nation

"Part personal essay, part municipal history, part architectural guide, part criticism and part utopian musing . . . Waterfront makes excellent reading for all those who feel the romance of the city's past and . . . for those with an interest in the growing healthiness of the city's waterways and in architecture and urban planning."–The New York Times Book Review

"Phillip Lopate has surrounded his subject and been surrounded by it in turn. His Waterfront is an elegant, elegiac, scrapwork masterpiece." –Jonathan Lethem

"Where less keen observers see only ugliness, Lopate discerns the raffish beauty that once was, the bright possibilities that might be."–Newsday

"Phillip Lopate . . . demonstrates that you don't have to go to the ends of the earth to be a great explorer. Anyone who finds Manhattan fascinating–there should be several million of us–would do well to read Waterfront, his beautiful ramble into its heart and soul." –E.L. Doctorow

"For strangers to New York, Waterfront will be an inviting introduction to the city's underappreciated edges. Natives will find surprising ideas and places in a metropolis they thought they knew."–Newark Star-Ledger

"Philip Lopate is a walker in the city like no other since Charles Dickens: He is archaeologist, historian, explorer, poet, observer (an observer of himself observing), muser, muller, and mooner; and all the while he is leading us through streets and crannies and old politics and hidden sights and right-in-front-of your nose scenes and structures, compelling our poignant or astonished notice." –Cynthia Ozick

"One man's saunter through a city he loves. . . . The stories are presented with tenderness and genuine concern . . . without the faintest whiff of sentimentality."– The Oregonian

"Lopate is a fantastic writer–humane, wry, and always astonishingly willing to take on the ineffable, attuned to the complexities of symbiotic relationships we only intuited before his dazzling collage was created." –Ann Beattie

"[Lopate] writes like cream pouring from a jug. . . . Richly entertaining."–Kirkus Reviews (starred)

"Waterfront is a potpourri of astute architectural critiques fresh readings of shoreline classics (literary and cinematic), snippets of autobiography, and a string of vest pocket histories (the one on Westway is by itself worth the price of admission). By turns amusing and acerbic, gently playful and bracingly argumentative, it's a moveable feast." –Mike Wallace, co-author of Gotham: A History of New York City to 1898

"A native New Yorker, avid walker, and impeccable stylist . . . Lopate seamlessly blends witty and candid accounts of his ramblings along the bedraggled edge of this great metropolis to create a fascinating narrative that encompasses historical, literary, cultural, aesthetic, and environmental perspectives."–Booklist (starred)

"An intensely and delightfully personal account of the Manhattan waterfront, full of insight and information, that weaves together one man's life and New York history for a rare, readable book–Ada Louise Huxtable

"Philip Lopate makes the waterfront that has vanished as vivid as the one that has survived . . .the thrill is not just in his different voices–tour-guide, archaeologist, detective, social scientist, historian of yesterday and today, lyrical poet, pragmatist, utopian, man alone on the cliffs, public citizen in the streets–but in the brilliant fluency with which he jump-cuts back and forth between them." –Marshall Berman
Advertisement