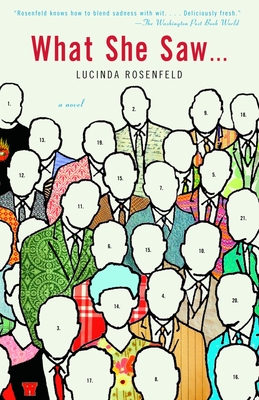 What She Saw in Roger Mancuso, Gunter Hopstock, Jason Barry Gold, Spitty Clark, Jack Geezo, Humphrey Fung, Claude Duvet, Bruce Bledstone, Kevin McFeel (Paperback)
Anchor Books, 9780385498234, 304pp.
Publication Date: September 4, 2001
Description
A fresh (in more than one sense) and honest new voice in fiction is extravagantly displayed in this first novel that candidly dissects modern romance.
Plagued with weird parents, an underdeveloped body, and a mind on the verge of self-deconstruction, Phoebe Fine feels ill-equipped for a journey through the hardening chambers of the late twentieth-century heart. But from fifth grade and Roger Mancuso, equal parts baby Brando and court jester, through her early adult life with New Media executive Neil Schmertz, a babytalker who prefers spooning to sex, Phoebe trudges defiantly through guyland, armed with a tart tongue, and propelled by an insatiable desire to be loved.
About the Author
Lucinda Rosenfeld lives in Brooklyn, New York.
Praise For What She Saw in Roger Mancuso, Gunter Hopstock, Jason Barry Gold, Spitty Clark, Jack Geezo, Humphrey Fung, Claude Duvet, Bruce Bledstone, Kevin McFeel…
"Genuinely funny... [Rosenfeld] lays out a colorful butterfly collection of bad boyfriends here, their hearts still beating, their wings firmly pinned."
--The New York Times Book Review

"There's a wicked honesty to Phoebe's accounting, even as she's deluding herself that each successive boyfriend just might be the one."
--The Los Angeles Times

"Rosenfeld knows how to blend sadness with wit... her voice remains deliciously fresh, even, at times memorable."
--The Washington Post Book World

Advertisement