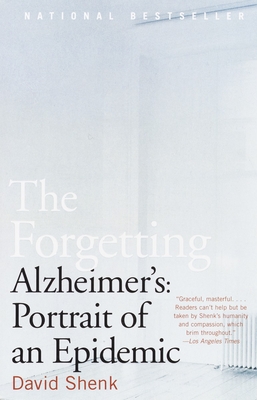 The Forgetting (Paperback)
Alzheimer's: Portrait of an Epidemic
Anchor, 9780385498388, 304pp.
Publication Date: January 14, 2003
* Individual store prices may vary.
Description
NATIONAL BESTSELLER

A powerfully engaging, scrupulously researched, and deeply empathetic narrative of the history of Alzheimer's disease, how it affects us, and the search for a cure.

Afflicting nearly half of all people over the age of 85, Alzheimer's disease kills nearly 100,000 Americans a year as it insidiously robs them of their memory and wreaks havoc on the lives of their loved ones. It was once minimized and misunderstood as forgetfulness in the elderly, but Alzheimer's is now at the forefront of many medical and scientific agendas, for as the world's population ages, the disease will touch the lives of virtually everyone. David Shenk movingly captures the disease's impact on its victims and their families, and he looks back through history, explaining how Alzheimer's most likely afflicted such figures as Jonathan Swift, Ralph Waldo Emerson, and Willem de Kooning. The result is a searing and graceful account of Alzheimer's disease, offering a sobering, compassionate, and ultimately encouraging portrait.
About the Author
David Shenk is the nationally bestselling author of six books, including The Genius in All of Us, The Immortal Game, The Forgetting, and Data Smog. He has written for The New York Times, The New Yorker, The Atlantic, Harper's, National Geographic, Slate, NPR, and PBS, among others. He lives in Brooklyn.
Praise For The Forgetting: Alzheimer's: Portrait of an Epidemic…
Praise for David Shenk's The Forgetting

"Riveting . . . Superb . . . A wonderfully readable history of the brain and of memory." —San Francisco Chronicle Book Review

"A remarkable addition to the literature of the science of the mind . . . Shenk has drawn together threads of neurobiology, art history, and psychology into a literary portrait of Alzheimer's disease perfectly balanced between sorrow and wonder, devastation and awe." —Los Angeles Times Book Review

"An elegant new book . . . Shenk rises above the usual rhetoric of combat and cure, enabling us to confront Alzheimer's not as an alien pestilence but as part of the human condition." —Newsweek

"Written with a researcher's attention to detail and a storyteller's ear." —The New York Times Book Review

"Destined to be a classic . . . Shenk's guided tour is free of medical jargon, filled instead with clear and sometimes memorable phrasing." —The Seattle Times

"Excellent." —The New Yorker

"A fascinating meditation . . . Shenk has found something beautiful and soulful in a condition that forces people to live in the perpetual 'now.' . . . Deeply affecting." —The Washington Post Book World

"A graceful, masterful portrait of [the] illness. . . Readers can't help but be taken by Shenk's humanity and compassion, which brim throughout." —Los Angeles Times

"Carefully researched and engagingly written." —The Wall Street Journal