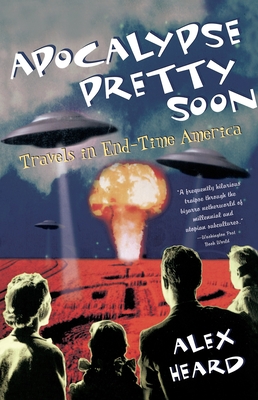 Apocalypse Pretty Soon: Travels in End-Time America (Paperback)
Travels in End-Time America
Main Street Books, 9780385498524, 368pp.
Publication Date: February 1, 2000
Description
The inspired madness of America's apocalyptic and pre-millennial organizations may have reached a fever pitch with the turn of the twentieth century, but intrepid cultural traveler Alex Heard spent a ten-year period witnessing the crescendo firsthand. Heard's enthusiasm led him on errands as diverse as being a voyeur at a Republic of Texas militia standoff, accompanying an expectant UFO "greeting party" to a remote field in Minnesota, and enacting the grief of the California quail at an ad-hoc therapy group for fierce environmentalists who believe the earth is an actual living entity that's preparing to kill off its human population -- and soon...or at least pretty soon.
About the Author
Alex Heard is an editor at "Wired" magazine. He has also edited and written for "The New York Times Magazine, Outside, The New Republic, Slate, " and many other publications.
Praise For Apocalypse Pretty Soon: Travels in End-Time America…
"A frequently hilarious traipse through the bizarro netherworld of millennial and utopian subcultures."
--Washington Post Book World

"Apocalypse Pretty Soon is a funny must-read for anyone looking for a respite from doom-and-gloom offerings currently on the bookstore shelves."
--Chicago Tribune

"Funny, unsettling, crank-packed...an all-American take on the looming exclamation point at the end of history."
--Entertainment Weekly

"Heard is an engaging writer: witty, not snide, not superior...turn to the chapter titled 'Death, Be Not in My Face,' read it, and I think you will agree: This is not simply silly stuff; this is the human comedy."
--Katherine Powers, Boston Globe
Advertisement