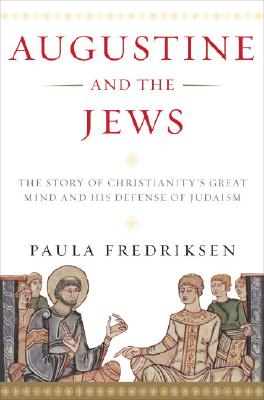 Augustine and the Jews
A Christian Defense of Jews and Judaism
Hardcover

* Individual store prices may vary.
Description
This provocative book traces the social and intellectual forces that led to the development of Christian anti-Judaism and shows how and why Augustine challenged this toxic tradition.

In Augustine and the Jews, Paula Fredriksen draws us into the life, times, and thought of Augustine of Hippo (396–430). Focusing on the period of astounding creativity that led to his new understanding of Paul and to his great classic The Confessions, Fredriksen shows how Augustine's struggle to read the Bible led him to a new theological vision, one that countered the anti-Judaism not only of his Manichaean opponents but also of his own church. The Christian empire, Augustine held, was right to ban paganism and to coerce heretics. But the source of ancient Jewish scripture and current Jewish practice, he argued, was the very same as that of the New Testament and of the church—namely, God himself. Accordingly, he urged, the Jews were to be left alone. Conceived as a vividly original way to defend Christian ideas about Jesus and about the Old Testament, Augustine's theological innovation survived the demise of the western Roman Empire, and it ultimately served to protect Jewish lives against the brutality of the medieval crusades.

Augustine and the Jewssheds new light on the origins of anti-Semitism and, through Augustine, opens a path toward better understanding between two of the world's great religions.

Praise For Augustine and the Jews: A Christian Defense of Jews and Judaism…
"It is a pleasure to write on a book that derives from a modern scholar's brain wave about the fateful insight of a thinker over a millennium and a half ago...This is the story that Fredriksen tells with gusto. Her book is a masterpiece of passionately argued Augustinian scholarship." --Peter Brown, The New York Review of Books


Praise for Paula Fredriksen

Jesus of Nazareth

"Tightly reasoned, learned and readable . . . engagingly written." —National Review

"Marked by the utmost clarity . . . good sense and the judicious weighing of evidence." —Times Literary Supplement


From Jesus to Christ

"Brilliant and enjoyable . . . Magisterial." —Times Literary Supplement

"Brilliant and lucidly written, full of original and fascinating insights." —Journal of the American Academy of Religion

"Fredriksen confronts her documents—principally the writings of the New Testament—as an archeologist would an especially rich complex site. With great care she distinguishes the literary images from historical facts." —Christian Science Monitor

"This is a first-rate work of a first-rate historian." —Journal of Religion
Doubleday Religion, 9780385502702, 512pp.
Publication Date: December 2, 2008
or
Not Currently Available for Direct Purchase