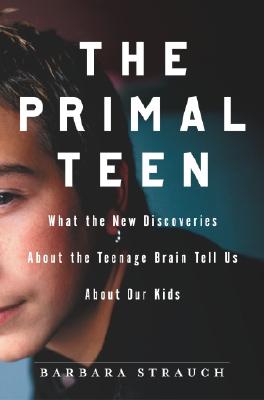 The Primal Teen
What the New Discoveries about the Teenage Brain Tell Us about Our Kids
Hardcover

* Individual store prices may vary.
Other Editions of This Title:
Paperback (9/14/2004)
Description
The first book to provide a scientific explanation of the mysterious, infuriating, and downright weird behavior of teenagers.
A mother paces the living room waiting for her sixteen-year-old son to come home hours past his curfew. When he finally saunters in, he answers every question with a blank stare, dashes to his room, and slams the door. The mother, stunned and angry, thinks "It's just hormones, right?"
Wrong. While raging hormones and an inclination toward rebellion are major players in the teenage drama, an area north of the gonads is directing the show: the brain. In "The Primal Teen," Barbara Strauch examines the cutting-edge scientific discoveries that are providing vital new information about what makes teens tick.
Until recently, scientists believed the brain had largely finished its development by the teenage years. But breakthrough research by leading neuroscientists now shows that the adolescent brain is an intensely busy work-in-progress, transforming some sections, radically pruning the synaptic connections, while strengthening those connections that remain. This immense "rewiring" project provides new clues to explain the swift mood changes, out-of-character responses and reactions, and even the acts of sheer stupidity that have puzzled parents throughout history. Strauch not only sheds new light on these breakthrough findings, she shows how understanding the basis of teenage behavior can lead the way to a saner and smoother relationship between parents and their kids. Through interviews with scientists, teenagers, parents, and teachers, she explores common challenges -- why teens can be so articulate and mature one day and so morose the next, why theyengage in risky behavior, and why some kids struggle while others bloom -- and offers practical strategies to help parents and kids manage these often difficult years.
"
The Primal Teen "is a major step forward in deciphering and responding to the moody metamorphosis all teenagers go through.

Doubleday Books, 9780385503396, 256pp.
Publication Date: April 1, 2003
or
Not Currently Available for Direct Purchase