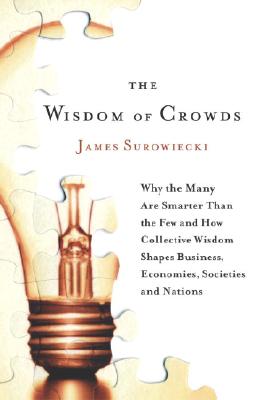 The Wisdom of Crowds
Why the Many Are Smarter Than the Few and How Collective Wisdom Shapes Business, Economies, Societies and
Hardcover

* Individual store prices may vary.
Other Editions of This Title:
Digital Audiobook (2/8/2004)
Digital Audiobook (5/24/2004)
Paperback (8/16/2005)
Paperback, Chinese (10/1/2013)
Description
"No one in this world, so far as I know, has ever lost money by underestimating the intelligence of the great masses of the plain people."  —H. L. Mencken
 
H. L. Mencken was wrong.

In this endlessly fascinating book, New Yorker columnist James Surowiecki explores a deceptively simple idea that has profound implications: large groups of people are smarter than an elite few, no matter how brilliant—better at solving problems, fostering innovation, coming to wise decisions, even predicting the future.

This seemingly counterintuitive notion has endless and major ramifications for how businesses operate, how knowledge is advanced, how economies are (or should be) organized and how we live our daily lives. With seemingly boundless erudition and in delightfully clear prose, Surowiecki ranges across fields as diverse as popular culture, psychology, ant biology, economic behaviorism, artificial intelligence, military history and political theory to show just how this principle operates in the real world. 

Despite the sophistication of his arguments, Surowiecki presents them in a wonderfully entertaining manner. The examples he uses are all down-to-earth, surprising, and fun to ponder. Why is the line in which you're standing always the longest? Why is it that you can buy a screw anywhere in the world and it will fit a bolt bought ten-thousand miles away? Why is network television so awful? If you had to meet someone in Paris on a specific day but had no way of contacting them, when and where would you meet? Why are there traffic jams? What's the best way to win money on a game show? Why, when you walk into a convenience store at 2:00 A.M. to buy a quart of orange juice, is it there waiting for you? What do Hollywood mafia movies have to teach us about why corporations exist?

The Wisdom of Crowds is a brilliant but accessible biography of an idea, one with important lessons for how we live our lives, select our leaders, conduct our business, and think about our world.
Praise For The Wisdom of Crowds: Why the Many Are Smarter Than the Few and How Collective Wisdom Shapes Business, Economies, Societies and …
What the crowd is saying about The Wisdom of Crowds:

"The Wisdom of Crowds is dazzling. It is one of those books that will turn your world upside down. It's an adventure story, a manifesto, and the most brilliant book on business, society, and everyday life that I've read in years."
—Malcolm Gladwell, author of The Tipping Point

"Most crowds of readers would agree that Jim Surowiecki is one of the most interesting journalists working today. Now he has written a book that will exceed even their expectations. Anyone open to rethinking their most basic assumptions--people who enjoyed The Tipping Point, say--will love this book."
--Michael Lewis, author of Moneyball.

"This book should be in every thinking businessperson's library. Without exception. At a time when corporate leaders have shown they're not always deserving of our trust, James Surowiecki has brilliantly revealed that we can trust each other. That we count. That our collective effort is far more important than the lofty predictions of those CEO-kings we have worshipped for too long."
—Po Bronson, author of What Should I Do With My Life?

"Jim Surowiecki has done the near impossible. He's taken what in other hands would be a dense and difficult subject and given us a book that is engaging, surprising, and utterly persuasive. The Wisdom of Crowds will change the way you think about markets, economics, and a large swatch of everyday life."
—Joe Nocera, editorial director of Fortune magazine and author of A Piece of the Action.

"It has become increasingly recognized that the average opinions of groups is frequently more accurate than most individuals in the group. As a special case, economists have spoken of the role of markets in assembling dispersed information. The author has written a most interesting survey of the many studies in this area and discussed the limits as well as the achievements of self-organization."
—Kenneth Arrow, winner of the Nobel Prize in Economics and Professor of Economics (Emeritus), Stanford University
Doubleday, 9780385503860, 320pp.
Publication Date: May 25, 2004
About the Author
SUROWIECKI is a staff writer at "The New Yorker," where he writes the popular business column, "The Financial Page." His work has appeared in a wide range of publications, including the "New York Times," the "Wall Street Journal," "Artforum," "Wired," and "Slate." He lives in Brooklyn, New York.
or
Not Currently Available for Direct Purchase