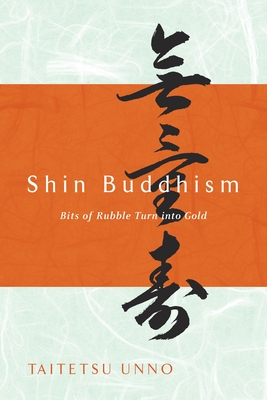 Shin Buddhism
Bits of Rubble Turn into Gold
Paperback

* Individual store prices may vary.
Description
Interest in Buddhism continues to grow throughout North America, and more and more readers are moving beyond the familiar Zen and Tibetan traditions to examine other types of Buddhism. In Shin Buddhism, Taitetsu Unno explains the philosophy anc practices of "Pure Land" Buddhism, which dates back to the sixth century C.E., when Buddhism was first introduced in Japan.

While Zen Buddhism flourished in remote monasteries, the Pure Land tradition was adopted by the common people. With a combination of spiritual insight and unparalled scholoarship, the author describes the literature, history, and principles of this form of Buddhism and illuminates the ways in which it embodies this religion's most basic tenet: "No human life should be wasted, abandoned, or forgotten but should be transformed into a source of vibrant life, deep wisdom, and compassionate living." As a practice that evolved to harmonize with the realities of everyday life, Shin Buddhism will be particularly attractive to contemporary Western readers.
Harmony, 9780385504690, 288pp.
Publication Date: September 17, 2002
About the Author
Recently retired, TAITETSU UNNO, Ph.D., was the Jill Ker Conway Professor of Religion at Smith College. He travels throughout the world as a lecturer on Japanese Buddhism, religion, and culture. He lives in Northhampton, Massachussetts.